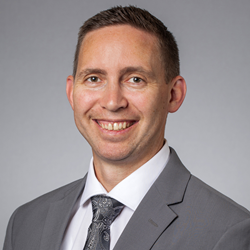 RICHMOND, Va. (PRWEB) July 14, 2020
Cherry Bekaert LLP ("the firm") is pleased to announce that Scott Anderson, Director - Assurance, has been selected to join the Governmental Accounting Standards Board (GASB) Practice Fellow Program. GASB is the independent, private-sector organization that establishes accounting and financial reporting standards for U.S. state and local governments that follow Generally Accepted Accounting Principles.
"Joining the GASB Practice Fellow Program is a great opportunity to actively participate in setting the financial accounting standards at the highest level of our profession," said Mr. Anderson. "Cherry Bekaert has a strong track record for delivering specialized solutions to our clients within the Government sector, and I look forward to bringing back important insights that further strengthen this expertise."
Mr. Anderson begins the two-year assignment on July 15, 2020 at GASB's Norwalk, CT headquarters location. Fellows fully immerse themselves in the Board's current short-term and long-term projects with a focus on implementation and emerging practice problems.
"We are delighted to welcome Scott to the GASB team," said Joel Black, GASB Chair. "Practice Fellows perform an invaluable role during their time with us. The perspective Scott brings and experience he gained serving Cherry Bekaert governmental clients will help quickly establish him as a true asset to the staff and significant resource to the Board."
About Cherry Bekaert
Ranked among the largest audit, tax and advisory firms in the U.S., Cherry Bekaert LLP offers specialized solutions in the areas of cybersecurity, specialty tax, transaction advisory, risk advisory, digital & technology solutions, benefits consulting, fraud & forensics, government contract consulting, valuation and wealth management. With clients in all 50 states and internationally, we have specialists in the sectors of technology, healthcare and life sciences, industrial manufacturing, private equity, real estate and construction, professional services, hospitality and retail, government and not-for-profit. We exercise a deliberate curiosity to know our clients' industries and work collaboratively as one team to guide them forward.
Cherry Bekaert LLP is a founding, independent member of Baker Tilly International, a top-ten global accountancy and business advisory network. Visit us at cbh.com and follow us on LinkedIn, Facebook or Twitter.