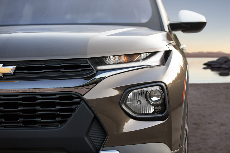 This event offers an extra $500 in cyber cash on most 2020 and 2021 models.
KENNESAW, Ga. (PRWEB) November 16, 2020
Drivers in the Kennesaw area who have been thinking about purchasing a new Chevrolet Malibu or SUV can take advantage of the Cyber Sales Event. This event offers an extra $500 in cyber cash on most 2020 and 2021 models. The models that are included are the 2020 Equinox, Trax, Blazer, Malibu, Traverse and the 2021 Trailblazer. This offer can be applied on top of other offers available for these vehicles.
On top of the Cyber Sales Event, there are other offers available that can be applied to the vehicles above. For example, the 2021 Trailblazer is available with the $500 cyber cash as well as $750 cash allowance. This means there is $1,250 in total cash allowances on most Trailblazer models.
The other models listed above also have similar additional cash allowances. However, each vehicle has a different amount available. These offers are available to well-qualified customers.
In addition to having great vehicles available in its showroom, Carl Black Kennesaw also has great customer service. When customers walk in the front door of the dealership, they are treated as a member of the family. Team members at the dealership listen carefully to the customer's needs and work hard to find a vehicle that will fit into the person's lifestyle.
Potential customers who would like to learn more about the Cyber Sales Event happening now at Carl Black Kennesaw can visit the dealership's website at https://www.carlblackkennesaw.com/. Individuals who have questions about a specific vehicle or the sales event can reach someone from the dealership by calling 888-457-2417. Otherwise, for those who would like a more personal experience, the dealership is conveniently located at 1110 Roberts Blvd. in Kennesaw.