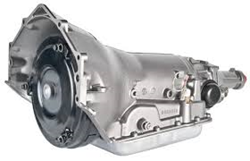 The used Colorado truck transmissions that we are now selling nationally are equipped for installation into trucks that use more than one engine type
San Francisco, CA (PRWEB) May 24, 2015
The Chevrolet S10 pickup truck was officially replaced at General Motors in the early 2000s with the Colorado truck brand. The Got Transmissions company is announcing its acquisition of used Chevy Colorado 4L60E transmissions to supply a resource for people to buy low cost automatic gearboxes online at http://www.gottransmissions.com/blog/chevy-transmissions/colorado-transmission-4l60e.
The arrival of the automatic 4-speed builds at the Got Transmissions company is helping to expand the truck components division in the Chevy inventory on the company website. The builds that are now in stock were used between 2004 to 2011. This wider spread of production years is expected to provide a person with more units to choose between when selecting a replacement assembly.
"The used Colorado truck transmissions that we are now selling nationally are equipped for installation into trucks that use more than one engine type," said one Got Transmissions expert.
The GM units that have been acquired do come complete with the adaptive control systems. Because most late model trucks are now using TCM modules, the preowned 4L60E gearboxes that are now shipping include all solenoid packs and modules. These OEM configured builds have been pre-certified prior to acquisition.
"We are now supplying the classic and the modern versions of the 4L65E gearboxes that fit into Chevrolet trucks and SUVs from our inventory," added the expert.
Due to changes in inventory that are now announced, the Got Transmissions company has expanded its daily customer service support team to handle consumer inquiries. The number at 1-866-320-1182 is enabled for use seven days a week to improve order processing and response times for consumer questions.
About GotTransmissions.com
The GotTransmissions.com company retails vehicle gearboxes for under the MSRP from its website on the Internet. The company has strong relationships with a number of car parts suppliers across the U.S. The GotTransmissions.com company has finished the integration of a brand new ordering center on its homepage to process web orders faster.