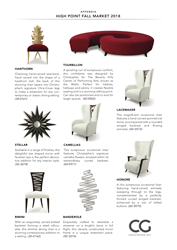 HIGH POINT, N.C. (PRWEB) October 09, 2018
Global luxury brand Christopher Guy (CG) (http://www.christopherguy.com/) will unveil an outstanding new range of furniture and accessories at its flagship High Point showroom from October 13 – 17, 2018. Founder and designer, Christopher Guy Harrison, will host a spectacular champagne reception on the first evening of Market (Saturday, October 13, from 4 pm - 7pm).
CG is also excited to co-host a panel event on Sunday, October 14 from 4 to 5 pm, titled "Setting the Mood: Elements of the Sensual Space," moderated by DESIGNER TODAY Editor in Chief, Jane Dagmi. Panel members include Jonathan Bass (Badgley Mischka), Michel Smith Boyd (Smith Boyd Interiors) and Christopher Guy Harrison (Christopher Guy).
"We're looking forward to a sensational week in High Point," said Christopher. "The upgraded showroom with its latest collection will be open year-round, complimented by our new website, where transactions can now be made 24/7, every single day of the year. I'm also extremely excited to be a part of the DESIGNERS TODAY panel, which will discuss the creation of sensual moods within a space."
Additionally, CG is proud to announce that its flagship showroom will feature the return of Steinway Pianos after more than a decade of absence from the International Home Furnishings market in High Point. Steinway returns by collaborating with CG and showcasing its incomparable quality, craftsmanship, and introducing cutting edge technology with the newest edition to the Steinway family, the Steinway and Sons Spirio. This unbelievable 7' concert model B will be finished in exotic Macassar Ebony and demonstrate the finest in quality.
Some of the new CG items making their debut include:
Camellias – Chair - 60-0571
This sumptuous piece features Christopher's signature camellia flowers, encased within its extraordinary curved backrest.
Rimini – Chair - 30-0162
With an exquisitely slatted backrest forming a sleek silhouette, this slimline dining chair is a stunning contemporary addition to a setting.
Banderole -Mirror Art - 50-3076
Exquisitely crafted to resemble a streamer in full flight, this cleverly engineered mirror frame is a piece of art.
Stellar -mirror - 50-3078
Available in a host of finishes, this delightful star mirror with faceted rays remains a perfectly understated decorative addition for the interior.
The Swirl – Multi-seating - 60-0563
A spiraling curl of sumptuous comfort, designed by Christopher for the lobby of The Beverly Hills Center of Performing Arts, and whose installation raised the curtain as a stunning talking point.
Hawthorn - Chair - 30-0161
Carved in the shape of a hawthorn leaf, this striking chair tapers into Christopher's signature Chris-Cross legs; a grand arrival into a fabulous dining room setting, hallway or powder room.
Lacemaker – Chair - 60-0572
This magnificent piece features a hand-carved symmetrical twine, accompanied with a rounded winged backrest and flowing armrests.
Honoré – Chair - 60-0570
A chic sumptuous occasional piece featuring hand-carved armrests sweeping through to the legs, accompanied by a perfectly formed curved backrest further enriched by a line of tufted buttons.
CG's Flagship Showroom, and the venue for the events listed above, is located at 129 South Hamilton Street in High Point.
For photos and more information about the new pieces, an appendix of new pieces, or for more information about CG at Fall Market, please contact Michelle Rico at michelle@brandamb.com.
To arrange a one-on-one interview with Christopher Guy Harrison, please contact Birgit C. Müller at birgit.muller@christopherguy.com or (310) 308-2847.
For more information:
Birgit Müller
Christopher Guy Brand Ambassador
Tel: +1 (310) 308-2847
Email: birgit.muller@christopherguy.com