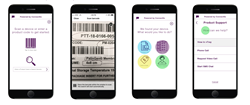 MOKENA, Ill. (PRWEB) November 13, 2018
ConnectSx, a software company building SaaS solutions that provide visibility into the medical device supply chain, has been issued US Patent 10,117,722: "Integrated surgical implant delivery system and method."
The new patent, along with patent 9,827,048 issued last November, supports the long-term vision of ConnectSx to deliver a fully integrated platform for managing medical device information, product knowledge, and product support, whether in the warehouse, in the field, or in the operating room.
"Imagine using your cell phone or tablet to read a device's unique device identifier (UDI) and access the full range of critical information about that device, like serial number, expiration, sterilization instructions, and surgical technique guides," said ConnectSx co-founder and CEO Chris Riedel. "The ability to simply scan a device and then use that data to deliver knowledge and support specific to the instrument or implant, when and where it is most needed, is incredibly powerful." According to the company, the new patent further strengthens its unique position to help device manufacturers and the hospitals they serve improve supply chain logistics and support positive patient outcomes.
ConnectSx's current suite of apps gives users 360-degree visibility into their medical value chain. Tighter, more user-friendly inventory control, streamlined transaction capabilities, and improved data collection create the potential for new business insights, improved workflow, and operational efficiency. The products will continue to evolve, supported by the company's growing portfolio of IP, driving transparency, reducing waste, and enabling seamless delivery of knowledge and support. Features of the ConnectSx platform can be found on the company's website, http://www.connectsx.com/solutions.
About ConnectSx
Based in Mokena, Illinois, ConnectSx (http://www.connectsx.com) innovates technological solutions that provide a fully integrated platform for managing medical device information and product support, reducing administrative and product waste while improving the bottom line for all its stakeholders. From inventory management to UDI tracking to product education, ConnectSx's intuitive, user-friendly platform provides transparency that minimizes risk while maximizing outcomes.