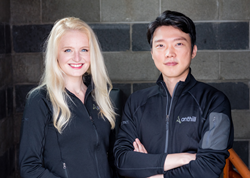 CHICAGO (PRWEB) August 12, 2021
Chicago-based startup AnthillAI, Inc. ("Anthill"), the talent management platform designed for the deskless workforce, announced it has raised $3 million in seed funding. Founded in 2020 by co-founders CEO Muriel Clauson and CTO Young Jae Kim, Anthill makes it possible for companies to connect with, develop, and retain deskless employees in manufacturing, distribution, and retail at scale. The HR SaaS startup has created a comprehensive talent platform based upon skills data and people science for employers paired with a mobile experience for employees. The startup's goal is to better understand and develop the deskless workforce (those who do not work at a desk or computer), who are 80 percent of the global workforce.
"Anthill's mission, and namesake, was born from the concept that just like ants in an anthill, we are all more than meets the eye, and we each have an important role to play in our organizations. Often the most overlooked workers are frontline or deskless workers—but as we learned especially during this last year, they are the backbone of our global ecosystem. There is an incredible opportunity for companies to better connect with, meet the needs, and develop the skills of these hourly employees—this is where Anthill comes in," said Clauson and Kim.
The round is led by Rethink Education along with participation from Origin Ventures, BBG Ventures, The Fund, JFF (Jobs for the Future), and more.
"White collar employees have clear pathways, sponsorship and training at every step of their careers. Deskless employees deserve the same assessment of skills and connection to resources to reach their full earning potential," says Ebony Brown, Principal at Rethink Education and Anthill's newest board member. "We are thrilled to lead this round of funding for Anthill in development of the leading platform to support this overlooked population of the workforce."
"Future of Work gets a ton of venture investment, but only a tiny percentage has been focused on deskless workers," said Susan Lyne, Managing Partner at BBG Ventures. "We believe Anthill can have a huge impact on these overlooked employees, by helping companies identify, internally hire and retain them. The founders' unique skills and experience make them the perfect team to accomplish this—and BBG Ventures is thrilled to be backing them."
"When Anthill launched in early 2020, I don't think even they realized just how much upheaval there would be for deskless workers and labor markets," says Scott Stern, Partner at Origin Ventures. "Current events make the need for solutions like Anthill that much more acute. This is true for companies, managers, and the employees themselves, and is the reason why Anthill is resonating with these large corporations."
"We are thrilled to announce our seed funding, which will help us grow our team exponentially, continue to develop our platform, and work to serve the 2.7 billion deskless workers worldwide," said Clauson.
Anthill's founders met while pursuing PhDs in industrial-organizational psychology. Both have worked extensively in shaping future of work strategies for large corporations and governments worldwide. Repeatedly, companies would come to them with the same challenge—they couldn't reach and truly develop their deskless workforce. From there, Anthill was born.
To learn more about Anthill, visit: http://www.anthillai.com or email Anthill at info@anthillai.com.
To schedule a demo, contact: http://www.anthillai.com/contact.
About Anthill:
AnthillAI, Inc. ("Anthill") is the talent management software for the deskless workforce, the 80 percent of the global workforce that does not work at a desk or computer. Anthill has broken the barriers to connecting with and understanding deskless employees in manufacturing, supply chain and retail sectors, which exist in almost every large enterprise. By answering just a few questions through Anthill's mobile experience, employees immediately receive more insight into their own skills, opportunities and more. Through Anthill's vertical solution focusing upon communicating with and understanding the deskless worker, employers are able to better develop and care for this workforce, increasing their retention, internal mobility and reskilling abilities. This is made possible by Anthill's predictive technology based on years of historical data, which is able to predict a wide range of people insights, like skills and turnover drivers, from limited responses and deliver a comprehensive map of the talent in an organization in an ongoing, rewarding way for employees. Anthill was founded in 2020 in Chicago, Illinois by co-founders Muriel Clauson and Young Jae Kim. To learn more, please visit http://www.anthillai.com.