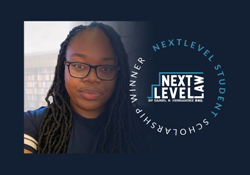 CHICAGO (PRWEB) November 16, 2022
NextLevel Law, P.C. is pleased to announce the first-ever recipient of the NextLevel Student Scholarship. Kiara Williams was awarded $1,000 to use toward educational expenses. A talented law student at Howard University, Kiara looks forward to a career as a human rights attorney.
CEO and Principal Attorney Daniel R. Hernandez was impressed by Kiara's commitment to growing her leadership skills in preparation for her career. In Kiara's video submitted with her application, she discussed her time volunteering with Americore, where she worked with a group of middle-school-aged children, showing her dedication to making the world a better place even before she can begin her legal career.
NextLevel Law established the NextLevel Student Scholarship to support the educational goals of students who plan to work in law, compliance, or public policy. The scholarship program is just one of the ways that this firm gives back to the community. In contributing to Kiara's education, the firm hopes to support her mission as an aspiring human rights lawyer.
NextLevel Law's values are reflected in its decision to start a scholarship program. Attorney Hernandez and his associates highly value accessibility in law and education. In his practice, Attorney Hernandez strives to make high-quality family law representation accessible to everyone.
Applications are currently being accepted for the spring 2023 NextLevel Student Scholarship. Students may see the full list of eligibility requirements and submit an application by visiting: https://www.nextlevel.law/scholarship
About NextLevel Law, P.C.
NextLevel Law, P.C. is a dedicated family law practice. The firm handles complex family law issues such as divorce and child custody, with a focus on LGBTQ+ family law issues. Attorney Hernandez is experienced in working with families who are in transition, and the firm uses a unique flat-fee pricing model to make services affordable for more members of the community.
To learn more about NextLevel Law, P.C., please visit: https://www.nextlevel.law/. If you are interested in scheduling a consultation, call 312-442-2225.