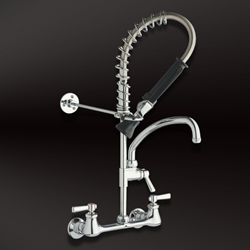 The Chicago Faucets Mini Pre-rinse fittings for foodservice operators feature legendary quality, superior strength, durability, a chrome-plated, solid cast brass faucet body (made in USA) and the industry's best warranty.
DES PLAINES, Ill. (PRWEB) December 20, 2022
Chicago Faucets will be exhibiting its newest fittings for restaurant, foodservice and commercial kitchens at the North American Association of Food Equipment Manufacturers (NAFEM) in Orlando, Florida on February 1-3, 2023. Chicago Faucets will be located in NAFEM booth #2638 at the Orlando Convention Center.
Chicago Faucets will showcase their Mini Pre-rinse fittings, a line of food service fittings that provides maximum performance in minimum space. The new, compact pre-rinse fittings from Chicago Faucets are built to stand up to the rigors of a fast-paced, high-demand commercial kitchen. A water-conserving pre-rinse valve rinses dishes, utensils and glasses quickly and thoroughly while saving water and energy. To select and customize the pre-rinse fitting for your kitchen, visit: https://www.chicagofaucets.com/products/fittings/pre-rinse
Mini Pre-rinse – the Perfect Fit for Commercial Kitchens and Restaurants:
The Mini Pre-rinse is made for tight spaces, with the Chicago Faucets component interchangeability that allows the installer to design and specify the model that fits the unique requirements of each space: restaurant, bar, kitchen, cafeteria, food truck, pantry and more. If the needs of the kitchen change, it's easy to swap out components like handles, outlets and supply arms. With Chicago Faucets, users can upgrade their fittings any time instead of replacing them.
Servicing the Mini Pre-rinse fittings is easy:
– kitchen staff can swap out the nozzle and bumper in a matter of minutes
– or replace the entire pre-rinse valve and get back to business.
Rugged Durability for Restaurants & Food Service Areas:

Chicago Faucets fittings are built to take the punishment of busy kitchens. The Mini Pre-rinse fittings feature legendary Chicago Faucets quality and durability and the industry's best warranty.
The Mini Pre-rinse fittings are high quality as Chicago Faucets doesn't skimp on their construction. They feature superior strength and durability, with a chrome-plated, solid cast brass faucet body.
Managers can count on smooth operation even during the busiest of times. Fittings include a nickel-plated brass valve stem and stainless-steel nozzle for smooth activation.
Economical & Sustainable:
For over 120 years, Chicago Faucets has been a trusted manufacturer of industry-leading fittings with unsurpassed quality and durability. The company backs up this reputation with the industry's best warranty. Whether restaurant operations require pot fillers at the stove, pre-rinse or washdown fittings for dish prep, dipper well and glass fillers in the bar area, or touchless handwashing faucets. Chicago Faucets makes plumbing fittings to keep restaurants, commercial kitchens and every sink in the facility operating at peak efficiency.
Chicago Faucets has designed the Mini Pre-rinse fittings to save time and money by substantially reducing energy and water costs for restaurants, commercial kitchens and institutions when used with the appropriate Chicago Faucets pre-rinse valves. Chicago Faucets is a proud partner of WaterSense®, a program sponsored by the EPA, the Alliance for Water Efficiency and the U.S. Green Building Council. In 2023, Chicago Faucets is celebrating its 15 years as a WaterSense partner. These programs are leading the way in the United States towards conservation of one of our most valuable resources – water.
The Choice for Multi-Unit and Chain Restaurant Operators
Since 1901, The Chicago Faucet Company, located in Des Plaines, Illinois, has offered commercial and residential plumbing products built to stand the test of time. A combination of the best engineering, finest materials and quality workmanship has made Chicago Faucets the specified choice in many of the finest building projects, food chains and multi-unit restaurants throughout the United States and Canada. To inquire about National Accounts, contact Nathan Klein, Business Development Manager, at Nathan.Klein@chicagofaucets.com.
The Chicago Faucet Company is part of the Geberit Group, a European market leader and global provider of sanitary technology with products available in the United States at geberit.us. As a European market leader, the Geberit Group is a global provider in the area of plumbing technology with sales of CHF 3 billion and more than 12,000 employees in 50 countries worldwide. For additional information, contact The Chicago Faucet Company at 2100 South Clearwater Drive, Des Plaines, IL 60018, telephone 800-566-2100 or visit chicagofaucets.com.
###