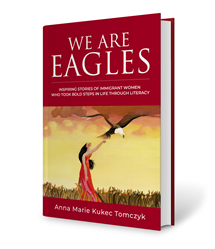 "The Dominican Sisters help people on the margins of society. So, Sister Kathleen believed creating a center to help immigrants to learn English and to improve their way of life fit perfectly into their mission."
CHICAGO (PRWEB) April 14, 2021
Since 1993, the Dominican Literacy Center in Aurora has been a trusted resource offering one-to-one tutoring to immigrants wanting to learn English and to help them become citizens in their new homeland.
Led by the Dominican Sisters of Springfield, the center has become a place offering inspiration, hope, confidence, comfort and safety for those escaping the many stressful and dangerous situations that many immigrants, especially women, face.
Chicago-based author and journalist Anna Marie Kukec Tomczyk brings readers into the heart of the center's mission through the eyes of five Latinas from Mexico in her new book, "We Are Eagles: Inspiring Stories of Immigrant Women Who Took Bold Steps in Life Through Literacy."
She explained that the title of the book came from the daughter of Maribel, a domestic violence survivor, who cleaned toilets for a living until she learned English, got better jobs and went through a divorce.
"One day, her daughter gleefully announced that since her mother now learned to drive and got a used car, the two of them were like eagles who could fly anywhere. Nothing could hold them back," Tomczyk explained. "Indeed, nothing held back Maribel or the other women in the book as they gained strength, confidence and endurance on their journeys in life thanks to the help they received at the center. The women in this book all had one thing in common: the arc of their lives paralleled each other, regardless of the year they attended the center. So, this book starts with the first public speech by Maribel that heralds more accomplishments to come. Then their stories are divided into four parts that mark the lifecycle of the eagle, one of the most powerful and enduring birds in our country."
Four years ago, Tomczyk learned about the center from Sister Beth Murphy, the Dominican Sisters' director of communications. Murphy told her about Sister Kathleen Ryan, the center's founder and director, who was inspired to create the center after watching a TV news segment describing a program helping immigrant women learn English.
"The Dominican Sisters help people on the margins of society. So, Sister Kathleen believed creating a center to help immigrants to learn English and to improve their way of life fit perfectly into their mission," Tomczyk explained. "As more former students achieved in life, the sisters saw the 'pillars' of their Dominican life in a new way. Those pillars, which undergird their lives as Dominican women, are community, ministry, study and prayer. Now, the sisters saw how the pillars were supporting their immigrant women as well."
The book was a three-year process for Tomczyk as she interviewed the sisters and the five women whose stories appear.
"Each one offered something that I and others could relate to, especially in mid-life," she said. "They each learned how to tap their strength, endurance, courage and empowerment. Each of these women preceded the Me Too movement, yet embodied it."
Ryan also wants readers to know how brave these women are after the situations they've experienced in their home country and here in the United States.
"As we work with these women at the Dominican Literacy Center, we see and admire their dignity and their resolve to enter into their lives in the United States as educated and participative mothers, wives, and workers," Ryan said. "They are an inspiration to us all as they live out the immigrant story."
A portion of the profits from this book will be donated to the Dominican Literacy Center to help support its literacy mission.
For information about the book, visit https://amkukectomczyk.com/book. It is now available on Amazon.
About Anna Marie Kukec Tomczyk
Anna Marie Kukec Tomczyk, author of "We Are Eagles," is a Chicago-based, award-winning journalist with bylines in U.S. News & World Report, ABA Journal, Chicago Tribune, Chicago Sun-Times, Daily Herald and Daily Herald Business Ledger, Prepared Foods Magazine, Chicago Bride Magazine and others. Anna Marie is a member of the Chicago Writers Association, Independent Writers of Chicago, the Society of Professional Journalists and the Chicago Headline Club.
She is a graduate of St. Xavier University in Chicago, where she lives with her husband, Jim Tomczyk, a project manager and a lifelong Chicago Bears fan. ###