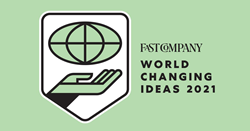 "Our intent is to empower people with disabilities, bring access to equipment and supplies for the many who need it, and eliminate the feeling of being alone throughout the journey."
CHICAGO (PRWEB) May 04, 2021
LittleWins has been selected as an Honorable Mention in the Experimental and Health categories as part of The 2021 World Changing Ideas Awards.
"I started this company because I know how hard it is to get the necessary tools to help your loved ones thrive. I know how frustrating it is to battle insurance companies to cover basic items needed for daily life. I know what it's like to give one hundred percent, get my hands dirty and grind away at work just to make ends meet and provide for our loved ones. After many conversations, the answer was so simple. If you have something you no longer need... give it away. We not only can make an enormous difference in another's life, we connect through that equipment or medical necessity. As it turns out, if we have a need for the same equipment chances are we have a lot more to talk about and share. I thought if I could help even one person then maybe I could sleep at night knowing at least I tried. Never did it ever cross my mind that we would build such a powerful community of so many members and also, win an award. I'm eternally grateful for the opportunity to serve this population. I am dedicated to creating a better world for my daughter with Cerebral Palsy and all others with disabilities. I will never stop fighting for acceptance, inclusion and the rights of individuals with disabilities. It took a village to get us this far. We are sincerely grateful for every single person involved. This award belongs to all of us. We have a long way to go, and we are ready for the journey."
Lexis Serot- CEO & Founder of LittleWins