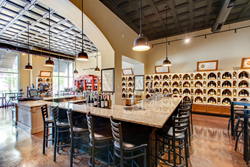 We're thrilled to be the first WineStyles Tasting Station in the Chicago area.
CHICAGO (PRWEB) April 23, 2019
WineStyles Tasting Station®, a hybrid retail / wine bar concept dedicated to simplifying the wine and craft beer experience, announces the Grand Opening celebration of its newest location, 6182 N. Northwest Highway, Chicago, Illinois, 60631, in the Norwood Park community.
Monday, April 29th kicks off the official Grand Opening week-long celebration. The official ribbon cutting ceremony with the Chamber of Commerce is scheduled for Thursday, May 2nd at 5pm-8pm. Other activities include Happy Hour Monday from 5pm-8pm featuring drink and food specials, Tuesday is Craft Beer Night featuring Ravinia Brewing & Aleman Brewery 6:00pm-8:00pm, Winery Spotlight tasting featuring L'Ecole wines from Washington State on Wednesday 6:30pm-8:30pm, Ribbon Cutting with the Chamber of Commerce and Alderman Nepalitano on Thursday from 5pm-8pm, and Friday Wine Tasting from 5:30pm-7:30pm. During the "Grand Tasting" extravaganza event on Saturday, May 4th from 4pm-7pm guests will enjoy a complimentary tasting of over 30 different wines and beers!
To celebrate, anyone who joins or upgrades their Wine Club membership will receive four complimentary tickets to any wine education class ($80 value) as well as $20 in Bottle Bucks. For the craft beer lover, join the monthly beer club and receive $10 in Bottle Bucks. Guests will also receive $5 in Bottle Bucks with any $45 in-store purchase.
"We are thrilled to introduce the very first WineStyles Tasting Station location in Chicago, opening the doors to the Norwood Park community to taste, learn and enjoy craft beers and wines from around the world," said Bryan McGinness, CEO of WineStyles Tasting Station. "Since our corporate headquarters is located in the Midwest, we believe there is strong growth potential for our concept in the Chicago market." Most recently in 2017, WineStyles has opened two stores, one just outside of Madison Wisconsin in Sun Prairie and the other in Ankeny, Iowa. "We will remain focused on our expansion efforts in the Midwest, while continuing to provide a unique shopping experience for our guests."
Emily Wilderman is the owner and operator of the new Norwood Park location, who previously owned the Park Ridge location. "We had out grown our small space in Park Ridge and it was definitely time to move to a larger space that could accommodate the new Tasting Station concept." The new location now has a full wine bar, craft beers on tap and private tasting room for events. "We now offer a small plate menu, pizzettes, artisanal cheeses, gourmet foods, and handmade chocolate truffles. We're looking forward to meeting everyone in the community," said Emily Wilderman. "We want our guests to come in, try something new, and find something they love every time they come in the door."
The WineStyles Tasting Station in Chicago will offer a unique retail experience and warm ambiance that is reminiscent of an old-world wine cellar. Wines are categorized by style and taste, rather than by varietal or region, which helps to simplify the shopping experience. The selection includes a rotation of unique labels and hard-to-find wines from both small and large vineyards from around the world. Each bottle is accompanied by a description listing the wine's characteristics, flavors and suggested food pairings.
Additionally, the WineStyles Tasting Station features a full wine bar with dozens of wines by the glass and a selection of food, craft beers on tap, hand-made fine chocolates and artisan cheeses. Furthermore, the store offers a variety of gifts and wine accessories including customizable gift baskets, monthly wine, beer, and cheese clubs, and a frequent buyer program. The location also features weekly wine and beer tastings, private event opportunities, as well as education classes.
The location will serve guests Monday – Wednesday from 11 a.m. to 8 p.m., on Thursday – Saturday from 11 a.m. to 9 p.m. and Sundays from 12 p.m. to 5 p.m. To learn more, visit http://www.winestylesnorwoodpark.com or follow them on Twitter, Facebook, Instagram. Event tickets can be purchased online via Eventbrite or in-store. Keep up to date on events and promotions, sign up for their email newsletter.
*Grand Opening offers only valid at WineStyles Tasting Station in Chicago, Illinois in Norwood Park.
About WineStyles Tasting Station:
Wine shop by day, wine bar by night. WineStyles Tasting Station demystifies wine and craft beers by categorizing bottles by style and taste, rather than by varietal or region. Each store features regional craft beers and hundreds of rotating wines from around the world, most priced $10 - $30 per bottle with an "If You Insist" category for premium wines. Guests can also Taste, Learn and Enjoy® the best in artisanal cheeses, handmade chocolates, craft beers, and other gourmet items. Headquartered in West Des Moines, Iowa, WineStyles Tasting Station currently operates 13 locations across the country. WineStyles Tasting Station encourages all customers to drink wine and beer responsibly. For more information visit http://www.winefranchise.com or http://www.winestyles.com .