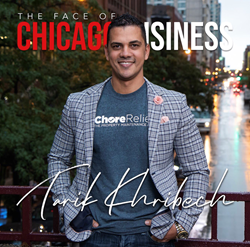 Our mission is simple: Save people time and money on property maintenance.
CHICAGO (PRWEB) January 14, 2020
In recognition of ChoreRelief's rapid growth over the past three years, the globally recognized Newchip startup accelerator has awarded them a place in their program. Also founded in 2016 as a crowdfunding aggregator, Newchip has helped over 1000 startups, raising a total of over $100 million in funding for its members. Newchip has since moved into helping startups directly by teaching and mentoring founders through its accelerator. Tarik Kribech, founder and CEO of ChoreRelief, hopes that the accelerator will provide him and his team with the funding and guidance that they need to grow ChoreRelief into new markets across the country.
ChoreRelief was born out of a simple need. As an investor in rental properties himself, Tarik was often frustrated with the process of finding and hiring good contractors or cleaners. Most available apps worked more like search engines, leaving him to identify which contractors he wanted to work with and request quotes from each of them. "Why should I have to go looking for contractors and ask for quotes when I'm the one that's offering the job?" Tarik asked himself. That question ultimately led Tarik to create ChoreRelief.
The philosophy behind ChoreRelief is simple. Save people time and money on property maintenance. They believe that scheduling home maintenance should be as easy as ordering a pizza on your phone. That is the guiding principle that drives all of ChoreRelief's work. Tarik wants to give people their time back by making finding good contractors as easy as a few taps of a button. "I like to think of ChoreRelief as a time vending machine," Tarik explained, "not just a way to save money."
With ChoreRelief, users can post their job at the price they want to pay and vetted contractors across the Chicago area bid for their business. Whether it's cleaning gutters or paving a driveway, it's all that simple. Users can select the best bid, award the contract, get confirmation of the work, and pay, all through the app. There are no service fees, subscription costs, or hidden charges. Just a simple way to get property maintenance done quickly and at the right price.
ChoreRelief has already established itself as a force to be reckoned with in the Chicago area. But Tarik's vision doesn't end there. Ultimately, he wants to bring ChoreRelief to every city in America. "Everyone has property maintenance needs. We want to make solving them easier for, wherever they are." Being accepted into the Newchip accelerator will be a huge step towards realizing that goal.
Boilerplate
ChoreRelief is a home and property maintenance app based in the Chicago area. In business since 2016, they have grown quickly to serve thousands of customers and professionals. Their mission is to simplify finding contractors for property maintenance, saving their users time and money in the process.