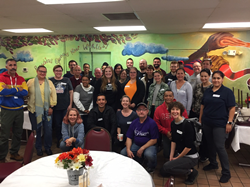 CHICAGO (PRWEB) October 30, 2020
TAWANI Enterprises announced today that it has been recognized by the Chicago Tribune as a 2020 Top Workplace. The diverse company's portfolio includes real estate development and management, hospitality, back office services, and a private equity portfolio including start-up and mature innovative companies such as a coin trading company and publishing company. In addition, TAWANI manages not-for-profit foundations with multiple interests including military history and LGBTQ rights. The ranking considered various companies, with employees having to answer 30 questions anonymously rating their employers.
The Chicago Tribune's annual Top Workplaces special report explores how organizations create and sustain a positive and productive culture, especially during such a challenging year for organizations of all sizes due to the coronavirus pandemic. To qualify for this recognition, a workplace must have at least 100 employees in the Chicago area.
"To be named a Top Workplace by the Chicago Tribune is especially thrilling because this honor reflects employees' feedback," says Col. Jennifer Pritzker, TAWANI Enterprises Founder and CEO. "I established TAWANI Enterprises in 1994 with a vision of building a company devoted to connecting people to the history in their midst and creating opportunities for growth and knowledge while forging stronger, healthier communities. It's fulfilling to see that our dedicated employees feel that they are being provided with the right resources to thrive."
Through a dynamic portfolio of public-facing brands, TAWANI Enterprises aims not just to grow value for itself but to create things of value shared and enjoyed by its fellow citizens into the future. Its culture fosters individual talent, mutual trust, and lifelong learning, with a commitment to ensuring that its employees work in an inclusive environment and that everyone is treated with dignity and respect.
For the past decade, Energage, on behalf of the Chicago Tribune, has been ranking workplaces in the Chicago area and the nation through employee surveys, assessing everything from work-life balance to confidence in company leadership.
To view the full list of the Chicago Tribune's 2020 Top Workplaces, please follow this link.
TAWANI Enterprises is always searching for people who bring a new way of thinking to our team and are passionate about continuing to learn and grow in their career. Find out more about TAWANI'S workplace culture and browse current openings on its careers page here.
###
About TAWANI Enterprises
A visionary umbrella organization with an entrepreneurial outlook, TAWANI Enterprises has a private equity portfolio of startup and mature innovative companies in various industries; and not-for-profit interests through Foundation work and military history and education organizations. The company offers back office services to all internal owned companies, including TAWANI Property Management, TAWANI Property Development, the Pritzker Military Museum & Library, TAWANI Foundation, Pritzker Military Foundation, Master Wings Publishing, and Aurum Trading, a gold coin trading market maker. Properties under the TAWANI Property Management Hospitality division include Lang House Chicago, The Emil Bach House, Mayne Stage and The Lincoln Way Inn, all of which are thoughtfully designed lodging and event spaces. All investments, for profit and not-for-profit, are based on TAWANI's mission to create opportunities for growth and knowledge and to create things of shared value to be enjoyed by citizens into the future. For more information, visit http://www.tawanienterprises.com.