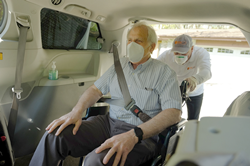 "I'm just doing my job, just like the nurses," said 3 year BriteLift driver Igor Yavnoshan. Robert McNamara, driver since 2019, said the customers have to "get to their chemotherapy or dialysis, even if there is coronavirus or not."
CHICAGO (PRWEB) July 15, 2020
Businesses around Chicago, and all over the world, are adapting to the uncertainty of COVID-19. BriteLift, a Chicago-owned and operated wheelchair-friendly transportation company, has proactively adapted to the current situation, setting a new standard for transportation. Robert McNamara a BriteLift driver since 2019, had this to say about the company's efforts: "They always make sure we have enough disinfectants and gloves, masks, and they put up one of those plexiglass barriers in the van."
Early on in the pandemic, BriteLift was already instructing drivers to disinfect "high touch" surfaces after every ride. As the pandemic continued more action was implemented, such as thorough disinfection of vehicles utilizing fogging sanitation guns, spraying every vehicle and its associated equipment. Furthermore, to reduce contact, only contactless payments are being accepted until further notice. BriteLift received a certification of COVID-19 Vehicle Sanitization from the Transportation Directory.
The changes implemented by BriteLift and its drivers have not gone unnoticed. "Customers are very appreciative of the masks and hand sanitizer," added Igor Yavnoshan, a 3 year driver for BriteLift. "Even if they don't have a mask, we will supply them with one and they love seeing the hand sanitizer and are even surprised it's there."
Transportation drivers, much like hospital and grocery store workers, are part of the frontline workers that keep Chicago and this country moving while the researchers continue to find a vaccine for the pandemic. When asked about his frontline role with BriteLift, Yavnoshan said, "I'm just doing my job, just like the nurses." McNamara added the customers have to "get to their chemotherapy or dialysis, even if there is coronavirus or not."
Chicago's wheelchair community is more likely to have underlying conditions or belong to a high risk age group, it may be necessary for them to consider the sanitation and safety protocols of the companies they work with. With medical workers stretched thin, BriteLift's drivers go above and beyond to help transport their riders who typically have significantly more needs. "We're a door through door service, because lots of times, they don't have caregivers with them so we take them up," shared BriteLift driver McNamara. BriteLift works with local medical establishments and businesses to provide safe and sanitized transportation for their wheelchair patients & guests.
About BriteLift
Addressing the lack of transportation for Chicago's wheelchair users, BriteLift provides a collectively positive experience. From easy booking to the well-equipped vehicles or the certified and background checked drivers, Chicago trusts BriteLift for wheelchair accessible transportation. Whether it is for non-emergency medical transportation or transportation for any occasion, BriteLift gets Chicagoans where they need to go.
Call 847-792-1212, book online or download the BriteLift App to make a reservation.