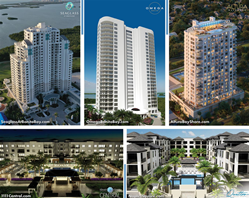 "I am delighted to host this event and to share our knowledge of the Naples, Florida real estate market with our Chicago friends and colleagues."
CHICAGO (PRWEB) October 17, 2019
Helaine Cohen and Sam Tarara of ChicagoCondoFinder.com and BHHS are pleased to announce that they will host a Naples, Florida Luxury Real Estate Market Overview in Chicago, Illinois on Thursday, October 24, 2019 from 5:00 pm to 7:00 pm. Interested individuals should contact Helaine Cohen for additional details by October 21st at hcohen@koenigrubloff.com or 312.953.0961.
The Luxury Real Estate Market Overview will address the Naples, Florida real estate market and luxury condominiums ranging in price from $750,000 to $7,000,000. The event will feature special guests Anthony Solomon and Van Osborne of The Ronto Group. The Ronto Group is known for their imaginative vision, steadfast integrity and reliable performance. Headquartered in Naples, the Ronto Group's expertise in land development and construction has been recognized internationally. Their developments are lasting examples of thoughtful planning, dedicated craftsmanship and emblematic of the luxury lifestyle.
Cohen said, "I am delighted to host this event and to share our knowledge of the Naples, Florida real estate market with our Chicago friends and colleagues."
"The Ronto Group represents exceptional properties like Seaglass at Bonita Bay, Omega Bonita Bay, Altura Bay Shore and 1111 Central and Naples Square to name a few. We look forward to introducing our friends to The Ronto Group," Tarara added. Those who are interested in luxury condos for sale in the Chicago market are encouraged to visit the informational page on ChicagoCondoFinder.com at https://www.chicagocondofinder.com/million-dollar-listings.php.
For more information, please contact Helaine Cohen at hcohen@koenigrubloff.com or 312.953.0961. Alternatively, persons interested in exploring condos for sale in the Chicago market can visit the website at https://www.chicagocondofinder.com/.
ABOUT BERKSHIRE HATHAWAY HOMESERVICES KOENIGRUBLOFF REALTY GROUP
The Michigan Avenue office can be reached by calling 312.944.8900. Berkshire Hathaway HomeServices KoenigRubloff Realty Group is a full-service real estate firm with nearly 1,500 real estate professionals and staff in 25 offices serving customers throughout the Chicago metropolitan area, the North Shore, West Suburban communities, Southern Wisconsin, Northwest Indiana, and Harbor Country, Michigan. Deep local roots are complemented by the extensive global reach of Berkshire Hathaway HomeServices, the top real estate brand in the nation. Affiliated and ancillary services in the form of Prosperity Home Mortgage, LLC, Fort Dearborn Title, and HomeServices Insurance complete the comprehensive services offered to clients. Visit https://www.koenigrubloff.com/.