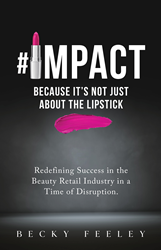 "I strongly believe that when we discover our individual purpose in life, success will naturally follow because we are fulfilling ourselves and others. While we can't control everything around us, we can control our reaction and how we move forward."
PLAINFIELD, Ill. (PRWEB) September 23, 2020
When Becky Feeley, a 20-year veteran of cosmetic retail and author of "#IMPACT: Because It's Not Just About The Lipstick," published by Fig Factor Media, began writing her new book the premise was informing her audiences on how to successfully sell beauty. Then, the severe impact of COVID-19 disrupted the entire world, and she knew that the premise would be much more.
Using personal experiences from over one decade in beauty retail, Feeley pivoted her message to show readers how they can redefine success in a time of disruption and make an impact that serves a bigger purpose.
"Success can look different to everyone," said Feeley, whose book is available on Amazon. "I strongly believe that when we discover our individual purpose in life, success will naturally follow because we are fulfilling ourselves and others. While we can't control everything around us, we can control our reaction and how we move forward."
In this book, Feeley shares personal and professional stories such as balancing motherhood and business, struggles with infertility, financial hardships, and unexpectedly being laid off from a dream job.
"That's when I started focusing on self-discovery," she said. "My world was shattered because many times, you allow your job to define who you are and the way that people see you. I was lost. At that point, I started recognizing what was important to me and who I truly was."
To help readers discover their purpose, Feeley developed six proven practices for new beauty advisors to executive-level leadership. Some include taking care of one's home and loved ones, active inclusivity, and awareness of the destination seeking mindset.
"Destination seeking is the mindset that happiness is somewhere other than the present," she explained. "For example, one may assume that they will be happier when they get that promotion, new job, or when they meet the man of their dreams. The truth of the matter is that we will always want more. True happiness comes from within and abundance arrives when we are present and fulfilling ourselves and others."
Feeley hopes that her stories and insight inspire readers to ignite their inner purpose.
"I want my readers to give themselves permission to activate their dreams and to know that they are the key to it all," she said.
"#IMPACT: Because It's Not Just About The Lipstick" is available for purchase on Amazon as well as Barnes & Noble, Walmart, and Books-A-Million.
About "#IMPACT"
In "#IMPACT," Becky Feeley dives into the trinity of personal, career, and company goals that synchronize with one other in order to achieve success. When there are full understanding and awareness of each of them, the puzzle starts to fill in, linking piece by piece, and the journey of expanding and redefining success begins to unveil. Each chapter uncovers relatable and relevant stories that can be used as a reference point through retail cosmetics whether a beginner, seasoned, or leader in the industry. In this book, Becky helps people find meaning, purpose, and fulfillment in the forever-changing world of the retail and beauty industry. Her priority is to leverage personal experience and expertise to elevate others to achieve the highest personal success with the understanding that it's not just about the lipstick. # # #