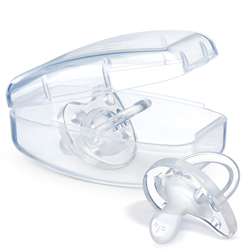 NEW YORK (PRWEB) July 21, 2020
A pacifier can be a parent's best friend – whether it is an effective soother or baby muter. The Chicco PhysioForma™ Pacifiers not only soothe, but are also designed for babies' overall well-being, and are clinically developed for comfort, breathing, and proper orthodontic development. A reusable sterilizing case that comes with Chicco pacifiers also allows parents to easily sanitize and keep pacifiers clean – this helps reduce worry and stress amidst the continued pandemic.
While parents are often concerned with germs, they have become more hyper-vigilant about safety and hygiene due to the COVID-19 pandemic. Chicco provides a solution for parents by offering pacifiers with a convenient method of sterilization. Pacifiers can be microwave sterilized in just three minutes with the included carry case, quick and easy to help relieve any worries of germs or contamination.
Along with cleanliness, safety remains a top concern for parents. Clinical studies show that Chicco PhysioForma Pacifiers actively support baby's breathing by positioning the tongue forward to maintain an open airway, which is especially important during sleep. The unique orthodontic nipple promotes physiological breathing that also improves the quality of sleep and reduces irritability. The Chicco one-piece silicone pacifiers conform to the American Academy of Pediatrics' guidelines for pacifier usage to lower the risk of Sudden Infant Death Syndrome (SIDS) during sleep.
Chicco's PhysioForma Pacifiers are BPA and latex free and are made with a skin-like texture that gives baby more comfort and less slip, which helps keep the pacifier in baby's mouth. The pacifiers have received numerous awards including Creative Child Magazine's 2020 Preferred Choice Award in pacifier category, Baby Maternity Magazine's 2020 Top Choice of the Year Award in pacifier category, Parent Tested Parent Approved Winner, National Parenting Product Awards Winner, and the Mom's Choice Award Honoring Excellence. PhysioForma pacifiers are also accepted by 9 out of 10 babies.
For more on Chicco pacifiers, visit HERE, watch exclusive content on Chicco's YouTube channel and video about pacifiers HERE, and follow on Instagram & Facebook.