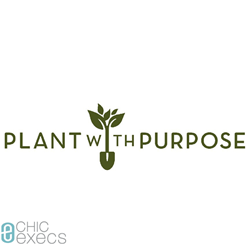 SAN DIEGO (PRWEB) March 19, 2020
PR & Retail Strategy Firm ChicExecs is giving back in a meaningful way by partnering with an organization that's building bridges between Mother Nature and underserved populations. Non-profit Plant With Purpose is on a mission to change the world twofold through environmental efforts and combating rural poverty.
Its global initiative begins with reforestation to not only heal fragile ecosystems but create nutrient-rich soil and prevent erosion for farming. As a Purpose Partner, ChicExecs donated 2019 profit earnings to fund an entire forest which will help the organization advance to the second part of its model: sustainable agriculture. Plant With Purpose describes this phase as the "marriage of environmental restoration and economic development."
Farming families receive education to become good stewards of the environment and create prosperous crops to feed their communities. Increasing economic empowerment, other learning opportunities include financial and business training. The charitable group also provides communities with spiritual engagement working with local churches and ministries.
ChicExecs co-founder/co-president Nikki Carlson explains how supporting this worthy cause contains mutual positives for the company by creating a charitable work culture. Taking initiative to do good in the world boosts employee happiness and a company's reputation.
"Giving back isn't just the right thing to do; it has tremendous benefits for your business," she said.
Another expert tip she shares when it comes to creating a give back work culture is to rally around a cause your employees are passionate about. In some cases, this might mean supporting more than one philanthropy, which ChicExecs takes pride in doing.
In addition to planting trees through Plant With Purpose, team members participated in sorting children's items for a local toy drive last December. Lending further assistance to charitable organizations, ChicExecs provides pro-bono services to the Hatian non-profit Grangou, which provides safety and shelter to abandoned and at-risk youth in Port au Prince.
About ChicExecs: Based in San Marcos, California, ChicExecs Marketing Agency was born out of a culmination of years of experience through founders Nikki Carlson and Kailynn Bowling, including backgrounds in marketing, PR, business management, retail and sales. ChicExecs offers what most traditional marketing agencies do not by creating a multichannel marketing plan that includes adding social media, influencer marketing, digital marketing ad campaigns, and retail strategy to the overall PR efforts. For more information, call (760) 429-6702 or visit https://www.chicexecs.com/.
About Plant With Purpose: Plant With Purpose is the global non-profit equipping farming communities with education in sustainable agriculture and business programs to help them thrive. In addition to providing economic empowerment, the organization takes an integrated approach to cultivating the land by reversing environmental degradation through reforestation. Plant With Purpose also provides spiritual outreach through faith-based activities and partnerships.