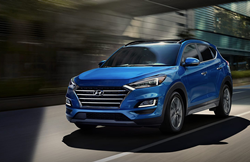 CHICO, Calif. (PRWEB) April 22, 2020
Chico Hyundai is offering numerous lease specials, which includes closed-end leases on various new Hyundai Sonata, Hyundai Elantra GT and Hyundai Tucson models. Hyundai Sonata, Elantra GT and Tucson model lease specials are for 2019 and 2020 versions at various prices. Each lease offer is for 36 months having money due at signing and is covered for up to 10,000 miles each year. Higher lease rates apply for those with lower credit ratings. Each offer expires on May 4, 2020.
For those interested in a Hyundai Sonata, two lease specials are available for new 2019 and 2020 models. Customers can pay just $199 per month with $2,499 due at signing for a 2019 model with a 2.4L engine with front-wheel drive. For a 2020 model with a 2.5L 4-cylinder automatic engine and front-wheel drive, those interested can pay $209 per month with $2,799 at signing.
With Hyundai Elantra GT models, customers have lease options on a new 2019 or 2020 model. For a 2019 Elantra GT with a 2.0L engine and front-wheel drive, potential lessees can pay $179 per month with $2,699 due at signing. 2020 Elantra GT models with the same engine and drivetrain are available for $179 per month with $2,999 due.
Lease specials are also available for 2019 and 2020 Hyundai Tucson models. For a 2019 model, well-qualified lessees can pay $229 per month with a down payment of $2,599 at signing. For a 2020 Hyundai Tucson Ultimate, those interested can lease the vehicle for $229 per month with $2,699 due at signing.
For additional information and other vehicle lease specials, you can visit Chico Hyundai online or at their location. Their sales department can be found on location at 2562 Cohasset Road, online at https://www.chicohyundai.com/ or reached by phone at (833) 308-0570.