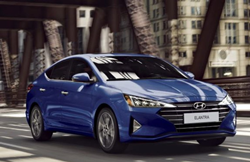 CHICO, Calif. (PRWEB) June 18, 2020
During the month of June, Chico Hyundai is holding various specials for vehicles in their inventory. This includes several 2020 Hyundai Elantra models at the SE and SEL trim level as well as the unique ECO trim and the Hyundai Elantra GT. Each vehicle has retail bonus cash taken off their prices and receives the Chico Hyundai Lifetime Limited Powertrain Warranty.
Two trims available under $20,000 include both a gray 2020 Hyundai Elantra SE trim and a black 2020 Hyundai SEL model. Both vehicles receive an estimated 40 mpg on the highway. For the special, the gray SE model is available at $17,105 after $2,000 retail bonus cash is taken off. Meanwhile, the black SEL trim model is priced at $18,106 after the same $2,000 retail bonus cash is taken off.
Beyond the previously mentioned trim levels, there are two other specialized Hyundai Elantra models available during the sale: a black 2020 Hyundai Elantra ECO model and a silver 2020 Hyundai Elantra GT. The 2020 Hyundai Elantra ECO model offers a 1.4-liter four-cylinder engine that is geared for fuel-efficiency. It receives up to an estimated 33 mpg on city roads and 41 mpg on highways. With $1,500 retail bonus cash, the model is currently available for $19,500. Boosted for performance in a hatchback style, the silver 2020 Hyundai Elantra GT receives up to 161 horsepower and 150 pound-feet of torque and has a six-speed shiftable automatic transmission. With $1,000 retail bonus cash taken off its initial price, it is available for $20,147 during the sale.
Those interested in utilizing the special offers by Chico Hyundai are welcomed to contact the dealership or visit directly before the offer expires on June 30. The dealership can be found at 2562 Cohasset Road in Chico. They may be reached by phone at 833-308-0570 or online at https://www.chicohyundai.com/.