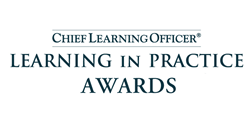 (PRWEB) October 03, 2018
During a special presentation at CLO Symposium Fall 2018 taking place in Houston, Chief Learning Officer magazine announced the winners of its coveted 2018 Learning In Practice Awards. Celebrating more than 60 visionary learning executives, organizations and industry vendors, this year's awards recognized recent innovations in the design and delivery of enterprise education initiatives.
The top honor — 2018 CLO of the Year — went to Brenda Sugrue, global chief learning officer for EY. Sugrue oversees the strategic direction and deployment of learning and leadership development for more than 250,000 EY employees worldwide and is widely credited with spearheading a major learning transformation at the multinational professional services firm.
Established in 2003, the annual Learning In Practice Awards single out individuals and companies that not only demonstrate innovation but also champion the impact of corporate education on workforce performance and business growth. Gold, silver and bronze awards are given in two broad classes. Practitioner awards are conferred in two divisions, based on organization size. They recognize CLOs and qualified senior learning leaders for outstanding learning and development initiatives. Provider awards recognize qualified service providers, vendors and consultants for their work on behalf of a client organization.
The 2018 Learning In Practice Awards winners are:
CLO of the Year
Brenda Sugrue, EY
THE BUSINESS IMPACT AWARD
Division 1:

Gold: Chis Bower, Global Director, GM Center of Learning, General Motors
Silver: Brenda Sugrue, Global Chief Learning Officer, EY
Bronze: Chris Hall, Assistant Commissioner, U.S. Department of Homeland Security, U.S. Customs and Border Protection
Division 2:

Gold: Parimal Rathod, Senior Vice President & Head, Business Impact Group and Learning & Development, Kotak Mahindra Life Insurance Company Limited
Silver: Elizabeth Collins-Calder, Director, Leadership Development, Suffolk
Bronze: James Mitchell, Vice President, Global Talent Management, Rackspace
THE BUSINESS PARTNERSHIP AWARD
Division 1:

Gold: General Motors
Silver: Bank of New York Mellon
Bronze: Dell EMC
Bronze: C3
Division 2:

Gold: Alamo Colleges
Silver: E&J Gallo Winery
Bronze: Sidley Austin LLP
THE INNOVATION AWARD
Division 1:

Gold: Mariam Kakkar, Chief, Talent Development Unit, United Nations Development Programme
Silver: Blaire Bhojwani, Senior Director, Learning Innovation, Hilton
Bronze: Elizabeth MacGillivray, Strategic Learning Leader, Mercer
Division 2:

Gold: Nancy Robert, Executive Vice President, American Nurses Association
Silver: Joe Ilvento, Chief Learning Officer, Commvault
Silver: Mike Blanchette, Senior Director, Sales Acceleration, Veeam
Bronze: Meriya Dyble, Director, Learning Reimagined, ATB Financial
THE STRATEGY AWARD
Division 1:

Gold: Damodar Padhi, Vice President and Global Head, Talent Development, Tata Consultacy Services
Silver: Laurie Jeppesen, Global Assurance Learning & Education Leader, PwC
Bronze: Alanna Corrigan, Senior Director, Customer Service Training Design & Transformation, Air Canada
Division 2:

Gold: Scott Hammond, Senior Manager of Industry Programs, Autodesk
Silver: Kathleen McCutcheon, Vice President, Human Resources, Tokio Marine HCC
Bronze: Lisa Druet, Senior Manager, E. & J. Gallo Winery
THE TALENT MANAGEMENT AWARD
Division 1:

Gold: Judith Almendra, Vice President, Human Capital, TTEC
Silver: Natasa Prodanovic, Group Talent Director, Coca-Cola HBC AG
Bronze: Meredith Oakes, Global Head of Campus Strategy & Pipeline Development, BNY Mellon
Division 2:

Gold: Jim Whiteford, Executive Director, Ally
Silver: Helen Rossiter, Senior Talent Development Specialist, West Marine
Bronze: Kathleen McCutcheon, Vice President, Human Resources, Tokio Marine HCC
THE TECHNOLOGY AWARD
Division 1:

Gold: John Kusi-Mensah, AVP, Distribution Capability Center of Expertise, MetLife
Silver: Edward Bell, Director, Dell EMC Education Services
Bronze: Paul Lutmer, Global Commercial Learning Leader, GE Corporate
Division 2:

Gold: Walter Davis, Global Learning Systems & Delivery Manager, Aggreko
Silver: Brent Boeckman, Global Learning and Development Manager, Malwarebytes
THE TRAILBLAZER AWARD
Division 1:

Gold: Patricia Acquaro, Managing Director and Head of Risk and Professional Excellence, BNY Mellon
Silver: Charles Atkins, Vice President, Dell EMC Education Services
Bronze: David Sylvester, Global Director, Booz Allen Hamilton
Division 2:

Gold: Tim Tobin, Vice President, Franchisee Onboarding and Learning, Choice Hotels
Silver: Ross McLean, Global Program Manager, Veeam
Bronze: Anil Santhapuri, Director, Learning and Development, Altisource
EXCELLENCE IN ACADEMIC PARTNERSHIPS AWARD

Gold: Davenport University
Silver: Penn State Smeal College of Business/Penn State Executive Programs/CorpU
EXCELLENCE IN BLENDED LEARNING AWARD

Gold: Learnlight
Silver: GP Strategies
Bronze: Rite Solutions
EXCELLENCE IN COMMUNITY SERVICE AWARD

Gold: TTEC
Silver: CoreAxis Consulting, LLC
EXCELLENCE IN CONTENT AWARD

Gold: Raytheon Professional Services LLC
Silver: Impact
Bronze: The Presentation Company
EXCELLENCE IN E-LEARNING AWARD

Gold: Easygenerator
Silver: Scrimmage
Bronze: HT2 Labs
EXCELLENCE IN EXECUTIVE EDUCATION

Gold: The Regis Company
Silver: NovoEd
EXCELLENCE IN PARTNERSHIP AWARD

Gold: Scrimmage
Silver: Litmos
Bronze: GP Strategies
EXCELLENCE IN TECHNOLOGY INNOVATION AWARD

Gold: SweetRush
Silver: STRIVR
Bronze: D2L
Bronze: Chronus
More information on the CLO Learning In Practice Awards is available at clomedia.com/awards/learning-in-practice.