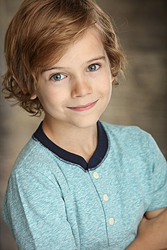 "I knew that it was going to be a big project so I gave it my all. I remember leaving the auditions feeling like I got the part and two months later, I got the call!" – Gavin Warren
KATY, Texas (PRWEB) December 24, 2018
Hollywood is home to many stars that began their careers as child stars. Everyone from Ryan Gosling to Christian Bale started off on films and TC shows targeted toward teens and kids.
Following in their footsteps is child star Gavin Warren. Warren is an up and coming child actor who's hoping to make it big in Hollywood. Warren made his debuted in First Man (2018) starring Ryan Gosling and Claire Foy. The film depicts the life of Neil Armstrong as he prepared to go into space and land on the moon. Warren plays Armstrong's son in the film.
Warren walked out of his audition feeling confident that he'd gotten the role but he didn't know he got the part until two months later.
"My mother told me that the film was being directed by Damien Chazelle, the same person who made La La Land and that was enough to motivate me. At the time I didn't know who Ryan Gosling was, I just went upstairs into my playroom and made an audition tape. I knew that it was going to be a big project so I gave it my all. I remember leaving the auditions feeling like I got the part and two months later, I got the call! We were told to pack for two months and that we would start filming the very next day," says Warren.
Prior to doing movies, Warren was modeling for couture houses such as Evolution Kids, Mint Couture and Kiss My Couture. His first modeling gig was at Great Day Houston, a morning show at a local TV channel. Warren has also done a couple of TV commercials for Space Center and Reliant Energy.
"I enjoy being in front of the camera and modeling is a lot of fun. After modeling, acting just felt like a step in the right direction. My brother and I were inspired by Adam Sandler and decided to tell our mom that acting is what we wanted to do next," explains Warren.
After earning the role of Neil Armstrong's son in First Man, Warren is all set to play the lead in his first horror flick titled The Descendant. The film is due to release in 2019. If Warren charms audiences as the central character, he can be Hollywood's next big child star.
About Gavin Warren
Houston-born Gavin Warren is an aspiring child actor who debuted in First Man (2018) under the direction of Oscar Winning filmmaker, Damien Chazelle. Warren is now preparing to play the lead character in The Descendant.
Aside from acting, Warren has also modeled for couture houses and had small roles in TV commercials.