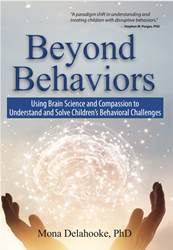 Instead of viewing behaviors as something bad to eliminate quickly, I want to empower 'Beyond Behaviors' readers to understand what underlies behavioral challenges and forge meaningful and healing solutions that strengthen relationships. - Dr. Mona Delahooke
LOS ANGELES (PRWEB) March 19, 2019
Child Psychologist Mona Delahooke, Ph.D., announces the release of her new book today, "Beyond Behaviors: Using Brain Science and Compassion to Understand and Solve Children's Behavioral Challenges" (PESI, March 19, 2019). Based on current brain science and 30 years of experience, Dr. Delahooke emphasizes why parents, teachers and others helping children with disruptive behaviors should focus on understanding a child's individual differences rather than focusing on discipline, punishment and compliance.
In "Beyond Behaviors", Dr. Delahooke aims to replace outdated notions with cutting-edge ways to work with persistent challenging behavior based on brain science and compassion.
"We are failing to help children with disruptive behaviors because our understanding and approaches are not consistent with current brain science," says Dr. Delahooke, a popular keynote speaker and author. "Instead of viewing behaviors as something bad to eliminate quickly, I want to empower readers to understand what underlies behavioral challenges and forge meaningful and healing solutions that strengthen relationships."
With a widespread misunderstanding of behavioral challenges across the world, everyone should be alarmed that 3.5 million students are suspended from U.S. public schools each year (U.S. Dept of Education). And according to a 2016 National Survey of Children's Health, 50,000 preschoolers were suspended at least once and the average school day sees approximately 250 preschoolers being suspended or expelled (NSCH, Center for American Progress). Based on this data, Dr. Delahooke emphasizes a pressing need to shift our approaches. "Our most vulnerable children, including foster children and those with trauma histories are subjected to the most outdated and punitive approaches."
Describing children's behaviors as "the tip of the iceberg," Dr. Delahooke offers guidance in "Beyond Behaviors" to help parents, teachers and others to look below the surface at the causes and triggers of behavior.
World-renowned neuroscientist Stephen W. Porges, Ph.D., is among many industry leaders offering enthusiastic praise for this groundbreaking book, which promotes updated neuroscience-based interventions for children with developmental, behavioral, emotional and learning differences. "'Beyond Behaviors' provides the basis for a paradigm shift in understanding and treating children with disruptive behaviors," says Dr. Porges, Distinguished University Scientist at Indiana University and Professor of Psychiatry at the University of North Carolina.
"Instead of focusing on eliminating behaviors," says Dr. Delahooke, "this book offers a new approach that considers the big picture while demonstrating that relationships are the key to helping all children grow and thrive."
NEW BOOK
"Beyond Behaviors: Using Brain Science and Compassion to Understand and Solve Children's Behavioral Challenges" (March 19, 2019)
https://www.amazon.com/Beyond-Behaviors-Compassion-Understand-Behavioral/dp/1683731190/ref=sr_1_1?keywords=beyond+behaviors&qid=1552498765&s=gateway&sr=8-1
MEDIA CONTACT
Liz Kelly, 310-987-7207
ABOUT
Mona M. Delahooke, Ph.D. is a pediatric psychologist, keynote speaker and author with 30 years of experience specializing in supporting children and families. Dr. Delahooke is a senior faculty member of the Profectum Foundation, an organization dedicated to supporting families of neurodivergent children, adolescents and adults, along with being a trainer for the Los Angeles County Department of Mental Health. Dr. Delahooke's first book, "Social and Emotional Development in Early Intervention: A Skills Guide for Working with Children" (February 2017), describes a contemporary, neurodevelopmental approach useful for all childhood professionals. https://monadelahooke.com