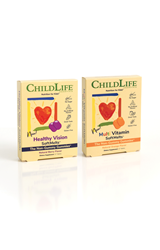 "In developing our Healthy Vision formula, we wanted to provide parents with an easy way to help protect their child's eyes now so that they can maintain healthy vision as they grow." - Dr. Murray Clarke, founder and president of ChildLife Essentials
SANTA MONICA, Calif. (PRWEB) May 06, 2020
ChildLife® Essentials, the leader in premium nutritional supplements made especially for infants and children, is launching SoftMelts™ - a sugar-free, chewable tablet designed as an alternative to gummies. Available in two unique formulas – a multi vitamin and a healthy vision supplement – SoftMelts™ enhance the ChildLife® Essentials portfolio of primarily liquid supplements with these easy-to-dispense, easy-to-take tablets.
The Multi Vitamin and Healthy Vision SoftMelts™ are made for children ages one and older and are naturally sweetened while being free from sugar, gluten, artificial colors and flavors.
Multi Vitamin SoftMelts™ are formulated specifically to meet a child's nutritional requirements and just one tablet a day provides essential vitamins and minerals a little one needs to thrive, including vitamins B6, B12 and D3 and minerals Zinc and Selenium.
Healthy Vision SoftMelts™ support the function and development of a child's visual system and may protect against overexposure to damaging blue light from digital device use with powerful antioxidants including Bilberry and Lutein.
"Children are exposed to blue light from technology and digital devices at younger ages and for longer periods of time," said Dr. Murray Clarke, founder and president of ChildLife Essentials. "In developing our Healthy Vision formula, we wanted to provide parents with an easy way to help protect their child's eyes now so that they can maintain healthy vision as they grow."
ChildLife® Healthy Vision and Multi Vitamin SoftMelts™ are available now on iHerb.com and will be available over the coming weeks at additional retailers where ChildLife® Essentials is sold.