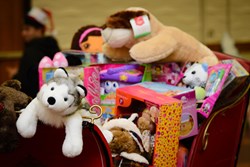 The holidays can be especially hard when you struggle to make ends meet. We are doing our best to help make the holidays just a little bit brighter for these families but we still need help
Los Angeles, CA (PRWEB) November 28, 2013
Every year Special Needs Network (SNN) hosts a Christmas event where they spread holiday cheer to special needs children and their families in some of LA's most underserved communities. The holiday event has become so popular, and the need so great, that the event was full within four hours of opening reservations to the public last week. On the fifth anniversary of the event, and due to the ever-increasing demand, SNN has set the bar high and is on a mission to collect and distribute at least 5,000 toys to children with disabilities and their typical peers.
In an effort to meet the demand, SNN is turning to the greater LA community for help by asking for donations of unused toys for these deserving children. Individuals interested in donating and helping to share the joys of Christmas, can call the Special Needs Network main office at (323) 291-7100 or email edguin(at)specialneedsnetwork(dot)org. Toys can be dropped off at the Special Needs Network office located at 4401 Crenshaw Blvd, Suite 215 in LA.
SNN is asking donors to be creative when shopping for toys, as research supports that kids with special needs benefit from everything from iPads and tablets to puzzles, board games and toys that engage their large muscle groups likes scooters and bicycles.
More than half of the donated toys will be given out to children with autism and other related developmental disabilities during the organization's annual Christmas events on Sunday, Dec. 15. In order to meet the demand, SNN scheduled two events on this day; the first will be held at 11 a.m. followed by another at 4 p.m. The packed events will take place on the campus of the University of Southern California in the Ronald Tutor Ballroom where Dickens Carolers, Santa Claus himself and the SNN team will join Los Angeles City Councilman Curren Price Jr., this year's honorary chair, to pass out toys.
"There are so many families and children in South Los Angeles in need of help," explains Areva Martin, co-founder and president of SNN. "The holidays can be especially hard when you struggle to make ends meet. We are doing our best to help make the holidays just a little bit brighter for these families but we still need help."
Even though both events on December 15 are now closed, SNN continues to receive daily requests for toys and is working diligently to meet the overwhelming needs of families. Volunteers and staff members will distribute the remaining donated toys on December 21 at its LA office.
"We know our goal of collecting 5,000 toys is ambitious, but we also know so many families depend on our toy drive," says Martin. "Kids with disabilities deserve for the holidays to be just as special as everyone else. It's eye-opening to see just how many children and families would go without if not for the generous donations of so many."
SNN's annual Christmas events started five years ago with 25 families and 100 donated toys from Martin's law firm, Martin & Martin, LLP. The events have seen dramatic growth over the years and now include more than 1,500 guests and 200 volunteers. Donations are provided from more than 20 corporate and community partners including this year's sponsors, Toyota, CBS/KCAL, Southern California Edison and AT&T. The events also provide guests with live entertainment, a hot meal, health and educational resources, and pampering for parents compliments of LA-based Marinello Schools of Beauty.
Since its inception, SNN has worked with more than 35,000 children and families and is known as California's premier "go-to" organization for autism advocacy and serving under-served populations, particularly African American and Latino communities.
"Special Needs Network embodies the meaning of Christmas all year long," says Councilman Price. "They continue time after time to demonstrate what it means to be a good steward to this community. LA is certainly lucky to have such an incredible organization and I would encourage our community to help them during this special time of year."
To learn more about SNN, and their programs and to get more information about their Christmas giving campaign, visit specialneedsnetwork.org or call (323) 291-7100. SNN also invites anyone with questions or concerns about autism and other developmental disabilities to contact their office for information on available resources, programs and service providers.
ABOUT SPECIAL NEEDS NETWORK
Special Needs Network (SNN) is based in Los Angeles and is California's leading grassroots autism advocacy organization. As a nonprofit organization, SNN was established to help families faced with autism and other developmental disabilities. The organization focuses on raising public awareness, impacting public policy, increasing education and access to resources for families, children and adults.