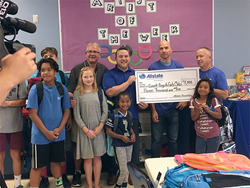 This is a tremendous victory for children in our area who are dealing with food insecurity on a daily basis, and we want to thank all the community members in Everett who came out and supported us
Everett, WA (PRWEB) September 18, 2017
Solutions Insurance, a Seattle area provider of comprehensive asset protection and financial preparation services that works with both families and business owners in western Washington State, is issuing an announcement on the successful results of a recent charity event launched to provide support for the local Snohomish County chapter of the Boys and Girls Club.
As a result of combined effort between Solutions Insurance, the Allstate Foundation, and several other regional agencies, the Boys and Girls Club received a record-breaking $11,000 in cash donations as a result of this charity event. In addition, the charity was provided with 250 backpacks and 30 cases of snacks for children benefitting from food sharing programs geared toward schoolchildren from underprivileged families.
"This is a tremendous victory for children in our area who are dealing with food insecurity on a daily basis, and we want to thank all the community members in Everett who came out and supported us," said Sean Vermeulen, owner and principal agent of Solutions Insurance. A write up on the event appeared in a recent news article in HeraldNet, a news service for residents of the Seattle area: http://www.heraldnet.com/news/allstate-donates-to-boys-girls-club/.
Much of the success of the charity drive benefitting the Boys and Girls Club of Snohomish County was the result of an online social media and email campaign spearheaded by the Solutions Insurance team. As well, the firm published a full page story detailing the event in it's widely read online local interest magazine "Our Hometown": http://solutionsinsuranceagency.com/magazines/.
Late last year, the Solutions Insurance team became regional representatives of a national charity assistance coalition called "Agents of Change." This is the third charity event hosted by Vermeulen and the Solutions team since becoming affiliated with AoC, and the team plans to continue working with new charities in the region regularly.
The Solutions Insurance agency has made the following page available for all readers who would like more information on the charity drive to assist the Boys and Girls Club of Snohomish County: http://solutionsinsuranceagency.com/causes/helping-local-youth-reach-full-potential/. Future charity events hosted by the Solutions Insurance team will be announced from the firm's Community Causes page: http://solutionsinsuranceagency.com/community/.
About Solutions Insurance
As a Personal Finance Representative in Snohomish, agency owner Sean Vermeulen knows many local families. His knowledge and understanding of the people in his community ensures that clients of Solutions Insurance are provided with an outstanding level of service. Sean and his team look forward to helping families protect the things that are most important - family, home, car and more. Solutions Insurance also offers clients a preparation strategy for achieving their financial goals. To contact an expert at Solutions Insurance, visit http://solutionsinsuranceagency.com/ or call (425) 353-8000.