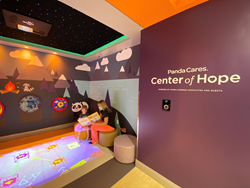 "Panda's commitment to helping their local children's hospitals meet the physical, emotional, mental and spiritual needs of children has never been more needed or appreciated during these challenging times." Teri Nestel, interim president and CEO of Children's Miracle Network Hospitals
SALT LAKE CITY (PRWEB) September 14, 2020
Following a commitment of $25 million to Children's Miracle Network (CMN) Hospitals to fund Panda Cares Centers of Hope, Panda Express®, through its philanthropic foundation, Panda Cares®, and CMN Hospitals have recently debuted Center of Hope locations at ten hospitals in the U.S. including California, Texas, Nevada, Hawaii, Washington D.C., Arizona and Illinois.
Hospitals include: Valley Children's Hospital, Lurie Children's Hospital, Children's National, UCSF Benioff Children's Hospital, Children's Hospital of Los Angeles, Cook Children's, Phoenix Children's Hospital, Renown Children's Hospital, Medical Center Health System and Kapi'olani Medical Center for Women & Children.
The Panda Cares Center of Hope inspires hope and promotes healing by providing specially curated programs that address each child's entire well-being, including their physical, emotional, mental and spiritual needs. Therapeutic play, art therapy and counseling services are just a few examples of a wide range of offerings at individual Panda Cares Centers of Hope designed to give children the courage and strength to thrive.
"With the ongoing support of transformational partners like Panda Express and their generous customers and associates, our network of children's hospitals can continue the urgent work of providing high-quality, life-saving care that children need every day," said Teri Nestel, interim president and CEO of Children's Miracle Network Hospitals. "Panda's commitment to helping their local children's hospitals meet the physical, emotional, mental and spiritual needs of children has never been more needed or appreciated during these challenging times."
This long-term support will continue to help communities and transform how CMN Hospitals meet the most urgent needs, save more lives and protect our collective future.
"We are proud to partner with Children's Miracle Network Hospitals to bring the vision of the Panda Cares Center of Hope to life and are humbled to be able to be part of the healing journey for the families and kids at these hospitals," said Dr. Peggy Cherng, co-founder and co-CEO of Panda Restaurant Group. "Children are our future, and we hope that through this partnership and curriculum designed to give children the strength to thrive, we will bring smiles and hope to communities nationwide."
Across the country, Panda Cares Centers of Hope are specialized spaces dedicated to promoting healing and inspiring hope and are made possible by Panda guest and associate donations—raising more than $85 million for Children's Miracle Network Hospitals over the past seven years.
In 2019, Panda Express guests and associates donated more than $26 million to CMN Hospitals across the country, helping them earn the recent award of PR Daily CSR Campaign of the Year: Panda Express and CMN Hospitals.
####
About Children's Miracle Network Hospitals
Children's Miracle Network Hospitals® raises funds and awareness for 170 member hospitals that provide 32 million treatments each year to kids across the U.S. and Canada. Donations stay local to fund critical treatments and healthcare services, pediatric medical equipment and charitable care. Since 1983, Children's Miracle Network Hospitals has raised more than $7 billion, most of it $1 at a time through the charit''s Miracle Balloon icon. Its various fundraising partners and programs support the nonprofit's mission to save and improve the lives of as many children as possible. Find out why children's hospitals need community support, and learn about your member hospital, at CMNHospitals.org and facebook.com/CMNHospitals.
About Panda Express®
On a mission to inspire better lives, Panda Express, an American Chinese Trailblazer, is the largest Asian dining concept in the U.S. Family-owned and operated since 1983 by co-founders and co-CEOs Andrew and Peggy Cherng, Panda Express is best known for creating a wide variety of industry-first recipes, including its best seller the Original Orange Chicken® and award-winning Honey Walnut ShrimpTM, which have defined the category of authentic American Chinese cuisine. Each dish at Panda Express is thoughtfully crafted with quality ingredients and inspired by bold Chinese flavors and culinary principles. The restaurant brand has more than 2,200 locations throughout the U.S. and has introduced American Chinese cuisine to twelve international countries. Powered by this global family of associates, Panda Cares®, the organization's philanthropic arm, has raised more than $216 million and dedicated countless volunteer hours in bettering the health and education for over 12 million youths, as well as supporting communities in need since 1999. In 2020, the organization established the Panda Cares Scholars Program to provide the necessary funding, academic support and leadership development to help high school and college students learn, lead and thrive towards a bright future. For more information, visit pandaexpress.com, or find us on Facebook, Twitter or Instagram.