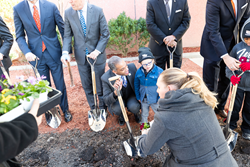 "We had this vision to create a one-of-a-kind pediatric and research innovation campus, which is also a first for Washington, D.C.," said Kurt Newman, M.D., president and CEO of Children's National.
WASHINGTON (PRWEB) November 29, 2018
On Wednesday, Nov. 28, 2018, Children's National Health System marked the official start of construction on its pediatric research and innovation campus with a groundbreaking event. It will be distinct nationally as a freestanding research and innovation complex focused on pediatric medicine.
"We had this vision to create a one-of-a-kind pediatric and research innovation campus, which is also a first for Washington, D.C.," said Kurt Newman, M.D., president and CEO of Children's National. "If we're going to help children grow up stronger, then it's not enough to just provide excellent medical care. We have to work on the research and innovation, which drives discoveries and improves the care for our next generation."
Children's National is renovating four existing buildings on a nearly 12-acre portion of the former Walter Reed Army Medical Center campus. This includes a research and innovation building, an outpatient care center, which will include comprehensive primary care services for the community, and a conference theatre.
"This groundbreaking is an exciting milestone in the redevelopment of the former Walter Reed Army Medical Center campus," said District of Columbia Deputy Mayor for Planning and Economic Development Brian Kenner in an e-mailed statement. "With partners like Children's Hospital on the campus, we are realizing Mayor Bowser's vision for Walter Reed as a dynamic and thriving community where people work, live and innovate."
Dr. Newman noted that while Children's National will be the fourth-oldest tenant in the District, moving into the new space during the hospital's 150-year anniversary in 2020, in many ways it is among the youngest thinking—remaining creative and nimble to find ways to accelerate children's health outcomes.
With 160,000 sq. ft. of research and innovation space—and room for expansion—Children's National will be able to expand its efforts in the high-impact opportunities in pediatric genomic and precision medicine. Developing treatments that can target an individual's disease more precisely can produce better outcomes with fewer side effects. This focus on personalized research will also improve access at the main hospital by freeing up space for the high-demand critical care services that Children's National provides.
The new pediatric research and innovation center will also provide an economic benefit of $150 million through its completion date of 2020, providing 350 temporary jobs and 110 permanent positions. The long-term growth, based on an independent study by McKinsey and Company, is exponential and could produce up to $6.2 billion in economic benefit by 2030, based on projected tax revenue and 2,100 permanent jobs.
"Medical advances that effectively treat or prevent disease means that our children will live fuller, more productive lives," said Mike Williams, board chair of Children's National. "That is real economic and societal benefit."
"Walter Reed is the single greatest economic development opportunity that the District of Columbia has seen in a generation," noted Ward 4 City Councilmember Brandon Todd. "To have Children's National be a part of that in such a significant way shows the promising opportunity for Walter Reed's long-term success. I am extremely excited about the hospital's vision and all that it will offer to the Ward 4 community and to the District of Columbia. By restoring this historic property and restoring it for medical use, we bring new vibrancy and health care accessibility to our community and to our city."
As part of the ceremony, current and former patients representing Children's National Rare Disease Institute planted shrubs in a planter on the site. The greenery included plants from the Children's National hospital's Bunny Mellon Healing Garden. The planting symbolizes the connection between the hospital location and the new campus, as well as a renewal for this historic site.
The project design team includes Elkus Manfredi Architects, Suffolk Construction and Mikyoung Kim Design.
Dr. Newman mentions he is open to partnering with others in Washington and throughout the world committed to finding innovative solutions to drive personalized health solutions for our next generation.
Follow the @ChildrensHealth conversation and community journey online: #ChildrensInnovation.
For photos of renderings, images of the groundbreaking ceremony or an audio recording of remarks made at the event, please contact Jessica Frost at jsfrost@childrensnational.org or 301-828-7521.
About Children's National Health System
Children's National Health System, based in Washington, D.C., has served the nation's children since 1870. Children's National is one of the nation's Top 5 pediatric hospitals and, for a second straight year, is ranked No. 1 in new born care, as well as ranked in all specialties evaluated by U.S. News & World Report. It has been designated two times as a Magnet® hospital, a designation given to hospitals that demonstrate the highest standards of nursing and patient care delivery. This pediatric academic health system offers expert care through a convenient, community-based primary care network and specialty outpatient centers in the D.C. Metropolitan area, including the Maryland suburbs and Northern Virginia. Home to the Children's Research Institute and the Sheikh Zayed Institute for Pediatric Surgical Innovation, Children's National is the seventh-highest NIH-funded pediatric institution in the nation. Children's National is recognized for its expertise and innovation in pediatric care and as a strong voice for children through advocacy at the local, regional and national levels.
Media Contact: Jessica Frost | jsfrost@childrensnational.org | 301-828-7521 |202-476-4500