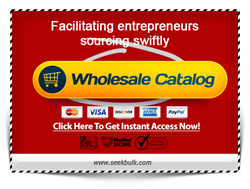 Facilitating entrepreneurs sourcing swiftly
yiwu,zhejiang (PRWEB) November 27, 2013
In order to increase profits for dollar stores, discount stores, professional flea maket sellers, online sellers, and others needing competitive prices on any durable product Seekbulk.com now will connect you to Chinese manufacturers who will work with small or mid-sized concerns in virtually any industry. Seekbulk.com works with proven manufacturers in China to produce prototypes, private labeled goods, promotional items, or any product an individual, company or discounter may need to increase profits.
Seekbulk will now work with your design or put private labels on existing material for you if we have plans or a sample from which to work. Seekbulk has a number of success stories: Most recently Seekbulk saved an International Resorts, vacation ownership, and Timeshare company over $75,000 by beating their previous year's best bid for 15,000 promotional binders used in their marketing division, Seekbulk.com can also sponsor factory trips to Yiwu China for prospective buyers that want to view working conditions or quality assurance.
Seekbulk is an young company in yiwu China.nowdays with internet, Usual turnaround is very fast from design to prototype and then on to manufacturing.
Texiles, Outdoor products, Plush Toys, Promotional items, Jewelry , Bags & Handbags, Eyewear & Watches , Fashion Accessories and much more are within the manufacturing scope of Seekbulk and its partners. Quality assurance, lower allowable volumes, and insured shipments are what set Seekbulk apart from normal China Sourcing companies:
About seekbulk.com
Xu Shi International Trading Co.,Limited is committed to bringing quality products to its customers from chinese sources. They source and develop good quality basic items from chinese suppliers, as well as buying manufacturer deals, closeouts, liquidations and bankruptcies.
They helping small businesses and entrepreneurs compete against larger enterprises.The wide range of products provide their customers the opportunity to gain extra margin in a highly competitive in retail environment. They strive to offer customer service that is second to none with accurate and timely order fulfillment.
For more information please visit http://www.seekbulk.com and find out more about the latest products and wholesale price.