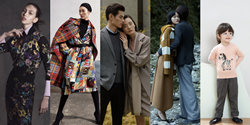 PLM will be the fundamental tool for our future development, and R&D digitalization will advance the entire ERDOS system.
CAMPBELL, Calif. (PRWEB) December 29, 2020
Inner Mongolia ERDOS Investment Holding Group Co., Ltd. (ERDOS), China's top cashmere clothing group, has successfully implemented Centric Software®'s Product Lifecycle Management (PLM) solution. Centric Software provides the most innovative enterprise solutions to fashion, retail, footwear, outdoor, luxury, consumer goods and home décor companies to achieve strategic and operational digital transformation goals.
ERDOS Group was founded in 1979 and its flagship brand, ERDOS, is China's most prestigious cashmere brand. ERDOS has an extensive end-to-end supply chain covering pastures, sheep breeding, cashmere harvesting, R&D, production and direct to consumer retailing.
To contend with fierce market competition and to accelerate their transition to omnichannel sales, ERDOS increasingly requires detailed management and strategic support of internal business processes. However, many of these were being managed in disconnected systems and offline documents. ERDOS selected Centric Fashion PLM to establish a product-centered digital R&D collaboration platform and a unified digital asset management system.
Miss Dai Tana, Executive Deputy General Manager of ERDOS Brand Division, says, "As a clothing company, products are of the utmost importance, so this PLM project is crucial."
"The Covid-19 epidemic brought challenges, but also opportunities," she continues. "It gave us time to review and optimize existing work methods, so that different teams can understand the operations of the entire business chain from a broader perspective."
The ERDOS PLM project has been successfully launched and has achieved its four major goals: Building a design and R&D platform, setting up a basic brand database, clarifying cost control mechanisms and promoting digitalized R&D decision-making.
Luo Qi, IT Director of the ERDOS Brand Division, says, "Close communication and multiple rounds of seminars between teams from both sides helped ERDOS' users gain a deeper understanding of the application of Centric PLM. PLM will be the fundamental tool for our future development, and R&D digitalization will advance the entire ERDOS system."
"We are delighted to collaborate with ERDOS," says Chris Groves, President and CEO of Centric Software. "ERDOS is an influential global brand, and we are excited to share Centric's rich fashion experience to power ERDOS' further expansion in the international market."
Learn more about Centric Fashion PLM
ERDOS (http://www.ERDOS.cn)
Founded in 1979, Inner Mongolia ERDOS Investment Holding Group Co., Ltd. is one of the top 100 private enterprises in China. After more than 40 years of continuous profitability and uninterrupted development, ERDOS has grown from a cashmere product processing factory into a large-scale modern industrial conglomerate covering multiple businesses including cashmere clothing, resource and mineral development, and the comprehensive utilization of energy.
The Group has built China's most prestigious national brand, "ERDOS", which has been at the top of China's most valuable brands list for more than ten consecutive years. Since its strategic upgrade in 2016, ERDOS Group has completed the preliminary phase of reshaping and enhancing its clothing brand range, including brands such as 1436 for rare baby cashmere products, ERDOS, which defines modern cashmere fashion, ERDOS 1980 which imparts classic style and quality, BLUE ERDOS for independent-minded young people, and erdos KIDS for children.
Fashionization and multi-brand strategies have been deployed by many Chinese clothing groups in recent years. ERDOS Group has a unique advantage in light of this new wave of development. With rich experience in cashmere products, ERDOS has an extensive industrial chain covering pastures, sheep breeds, cashmere harvesting, R&D and production, and ultimately, end-user retail selling. The Group's clothing brands are all centered on "cashmere" and exploring a range of diverse styles and fashionable designs through the use of this material.