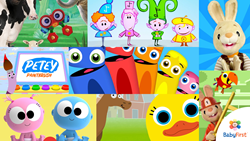 We're pleased to deliver even more premium educational content for babies and toddlers to Chinese families.
BEIJING (PRWEB) June 11, 2019
China-based online entertainment service iQIYI has renewed a content syndication deal with First Media's Baby First for new episodes from over 10 original series for babies ages zero to three. The slate of programming will also include three new series -- "My Animal Friends with Robi", "Googoo & Gaagaa" and "Shapes School". With Baby First exclusively distributed by HBO Asia in the region, the deal marks the third year that Baby First has syndicated its slate of educational programming to China translated and dubbed in Mandarin Mainland. Baby First shows and clips air exclusively in China on iQIYI Kids here: http://bit.ly/2Mg7K2g. (See below for a full list of shows and loglines.) Reaching over 500 million monthly active mobile users, iQIYI is an innovative market-leading online entertainment service in China.
"We're pleased to deliver even more premium educational content for babies and toddlers to Chinese families," said Guy Oranim, CEO of Baby First parent company First Media. "Our programming for babies can transcend borders, so it's a big focus for us to continue expanding our global distribution."
Baby First has also recently expanded the business into Latin America as well and is already available in 5 languages and 33 countries, including fellow APAC countries Cambodia, Indonesia, Malaysia, Nepal, Philippines, Vietnam and Singapore. It's linear television network reaches 60+ million homes and commands over 111 minutes of watch time daily amongst moms and women 18-49 and their babies. Globally Baby First reaches over 110 million viewers online
# # #
ABOUT FIRST MEDIA AND BABYFIRST
First Media is dedicated to inspiring the do-it-all millennial woman with four media properties focused on clever ways to live better. Its growing communities of >115 million fans worldwide play with their food with So Yummy, life hack with Blossom, make beauty a breeze with Blusher and watch baby blossom on BabyFirst. Online, First Media's social brands generate 1.5 billion views and 50+ million engagements each month. Its high-quality, highly shareable content makes them #1 in views and shares per video*. BabyFirst, First Media's linear TV and streaming channel, is available in 60+ million homes on cable and satellite television and on OTT platforms like Apple TV, Amazon Prime, Roku and more. First Media is headquartered in Los Angeles and has seen exponential year-to-year growth since its launch in 2006. For more information, visit http://www.first.media. *Tubular Labs