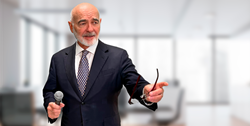 TPMI goes beyond mere patient acquisition to show chiropractors how to keep those new patients by making strategic changes in their doctor-patient communication and organizational practices," said Dr. Mark Radermacher.
ELROY, Wis. (PRWEB) February 06, 2023
The internationally known chiropractic practice management company, Total Practice Management International, is pleased to announce the launch of their new website at tpminternational.com from founder Dr. Mark Radermacher. The new site features improved functionality and unveils the newly updated "Clinic Complete" and "Clinic Communication Only" programs from TPMI.
"In developing the new website, we met the challenge of differentiating TPMI from other chiropractic consultants. TPMI goes beyond mere patient acquisition to show chiropractors how to keep those new patients by making strategic changes in their doctor-patient communication and organizational practices," said Dr. Mark Radermacher, TPMI founder and architect of the TPMI programs. "The new site also addresses another unique feature of our program—reducing doctor stress and burnout, which is a rampant problem in our industry. We show chiropractors how to break the new patient feast or famine cycle and instead build a consistent, sustainable, busy practice without sacrificing their health and family."
The new site is also richly populated with the testimonials and actual words of chiropractors who have found success through Dr. Mark Radermacher's programs and coaching. Dr. Mark Radermacher has been helping chiropractors run successful practices for thirty years while keeping their personal lives in sublime balance. He has delivered more than 660 seminars around the world, spanning three continents.
The site reintroduces TPMI's Clinic Complete Program. The Clinic Complete Program addresses all areas of clinic management. Clinic Complete offers a robust program of one-on-one coaching, statistical reviews, seminars and seminar notes, communication training, and recommendations for effective organizational changes. The program also includes access to unique Intensive Seminars that offer the rare opportunity to practice communication techniques with peer doctors via role play. Doctors in the program learn to "train patients" and encourage compliance and commitment to their care with tweaks to doctor-patient communication. TPMI chiropractors report that they cut overhead, reduce working hours, and eliminate the highs and lows of new patient intake because of what they learned in the program.
The site also reintroduces TPMI's other primary offering, the Communication Only Program , which is less comprehensive than the Clinic Complete Program. Designed for chiropractors who believe their organizational processes are sound, the program focuses solely on improvement in patient-doctor and patient-staff team communication.
The new TPMI website also offers many other subscription-based chiropractic educational video series, like the "Do it Yourself" program for highly motivated chiropractic doctors and the Staff Team Training video series. Neither includes one-on-one coaching with Dr. Radermacher, but both are delivered on-demand through hours of video content explaining some of the most impactful concepts available within the TPMI programs. Subscription sign-ups for the Outside the Box series, a weekly educational chiropractic video from Dr. Radermacher on a weekly hot topic or applicable business philosophy, are also on the site.
Free resources on tpminternational.com include the new TPMI blog and the Monday Morning Truth sign-up. Subscribers to Monday Morning Truth receive a free inspirational audio message delivered to inboxes every Monday morning.
Doctors will also be able to order additional products on the site to help them better track new patients and patient retention of their practice and make objective organizational changes based on data rather than emotion. These include the TPMI Statistics Spreadsheet, the TPMI New Patient Tracking form, and the TPMI Appointment Book.
To learn more about Dr. Mark Radermacher and the programs at TPMI, visit the new website at tpminternational.com.
About TPMI International
Since 1989, TPMI has offered chiropractors the coaching and resources they need to create sustainable growth in their practice without stress and burnout. The program was created by Dr. Mark Radermacher, an internationally renowned chiropractic consultant with more than thirty years of coaching experience. TPMI programs provide chiropractors with one-on-one coaching, proven doctor-patient communications techniques, organizational best practices, and empirical monitoring of their practice's statistics, trends, and patient experiences to make changes in practice based on data, not emotion. For more information, call 608-463-7474 or visit tpminternational.com.