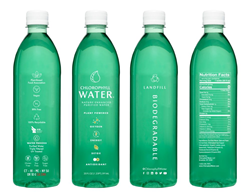 NEW YORK (PRWEB) January 15, 2020
Chlorophyll Water is a plant powered purified water (carbon filtered, triple filtration, UV treated) enhanced by nature with the addition of Chlorophyll, a key ingredient and the vital green pigment in plant life. Chlorophyll Water is a refreshing introduction to the many benefits of Chlorophyll, fortified with the added health benefits of Vitamin A, Vitamin B12, Vitamin C and Vitamin D for enhanced hydration.
Recognized by the Green Business Bureau as "good for the mind, the body and the planet," Chlorophyll Water has built a Community Page on their Chlorophyll Water website dedicated to acknowledging tomorrow's most promising leaders within the health, wellness, nutrition and yoga communities. To learn more about Chlorophyll Water's Community Page, visit HERE.
Chlorophyll Water has become the go-to hydration for health and wellness experts, nutritionists and fitness trainers across the country. Here's what they have to say about it:
"Chlorophyll Water has become my go-to during and post-workout drink. The spearmint taste is refreshing after a hard sweat, the micro-nutrients are exactly what I need to replenish the loss of electrolytes and the B-vitamins give me a little kick to keep pushing through. As an environmentalist and outdoor enthusiast, it's also refreshing to know that CW is leading the way in sustainability and making a difference for Mother Nature."
-David Mykel, MA
Cliff Hanger Academy, Founder & Head Coach
New York, NY
"I've always loved chlorophyll for its supportive properties and its ability to help counteract the very toxic world we live in, helping me to stay alkaline. Right now I'm loving Chlorophyll Water because it's a convenient way for me to grab and go, and I love that it has the added health benefits of purified water and vitamins."
-Holly Perkins, BS, CSCS
Lift to Get Lean, Author
Women's Strength Nation, Founder
"As a fitness instructor and gym manager, a good detox program involving drinking Chlorophyll Water provides a needed energy boost in the morning. In fitness circles, the increase in blood production brought about by drinking it, helps us improve our performance in the gym or during running."
-Nicole Harwood-Nash
Strength & Conditioning Coach
The Workout Digest
"Some of the most exciting health benefits of chlorophyll and greens in general, are its antioxidant activity and promotion of efficient detoxification. Research supports that dietary forms of chlorophyll contribute to overall health and wellbeing by supporting these important functions. Chlorophyll Water can be a convenient way to incorporate more chlorophyll into your daily diet."
-Amanda Sylvie, MPH, RD, LD, CLT
Well in The City, Founder
New York, NY
"If you're seeking liquid chlorophyll, however, look no further than classic Chlorophyll Water. The purified water features a gorgeous green color and a vitamin-rich composition that helps to energize, oxygenize and detoxify the body from the inside out.
-Kirsten Nunez, B.S., M.S.
B.S. (Dietetics), M.S. (Nutrition)
Livestrong
"Chlorophyll is the bedrock of all plant life, and the similarities to the molecules of our red blood cells is uncanny. When you drink really well sourced Chlorophyll it's like breathing fresh air straight into our bloodstream. I recommend hydrating before your yoga practice with Chlorophyll Water to help stimulate peristalsis and help neutralize free-radicals in the body that can damage healthy cells."
-"Yoga Dan" Gottlieb, C.R.C, YACEP
Sproga, Founder
MLB, NBA, NFL Athlete, Yoga Training Expert
Vinyasa Yoga, Certified Trainer
"Chlorophyll is responsible—in a way— for all life on earth. It is the "blood" of plants and has blood-building properties for our red blood cells. One of the best things you can do is drink Chlorophyll Water. It is a powerful detoxifying, healing and energizing tonic."
-Dr. Eugene Charles, D.C.
International Board Applied Kinesiology
Journey to Healing: The Art and Science of Applied Kinesiology, Author
"Chlorophyll Water is also high in antioxidants and vitamins that are necessary for the body. It's chlorophyll that gives green plants their phytochemical and antioxidant properties that can fight free radicals. Having a high intake of antioxidants is important for everyone but especially athletes because the high amount of exercise increases the amount of free radicals produced by the cells which makes it more difficult for the athlete's cells to recover."
-Todd Buckingham, Ph.D. Exercise Physiologist
Mary Free Bed Sports Rehabilitation Performance Lab and Hospital
Grand Rapids, MI
"There are many potential benefits of incorporating Chlorophyll Water into your diet. These perks include speeding up the healing process, detoxifying the liver and inducing weight loss. Since chlorophyll is naturally part of most veggies, as it is a molecule found in all green plants, you're likely getting adequate amounts of this molecule from your diet. However, as drinking Chlorophyll Water will increase your fluid intake, and it has a plethora of potential benefits, it's favorable to include it in your routine in moderation."
-Bonnie Balk, RD
Registered Dietician
Maple Holistic, Founder & Registered Dietician
"There are many benefits to liquid chlorophyll. This supplement has been used to fight body odor. It may also be effective in fighting some types of infection and improve the microbiome of the gut. Chlorophyll Water can help detox the body."
-Michael J. Brown, BCPS, BCPP, Pharmacist
Sunshine Nutraceuticals, Founder
Board certifications in Pharmacotherapy and Psychiatry
Portland, Oregon
Since our bodies are almost two-thirds water, understanding water's important role in the body can be a fountain of health. The water in Chlorophyll Water is distilled and refined for purity and quality. Chlorophyll Water is a purified water that goes through a three-part purification process, which is tripled filtered (including carbon filtration), and then given a UV treatment.
Chlorophyll Water asked their community of wellness experts how important hydration is to an active and yoga centered lifestyle. Here's what they had to say:
"Most of us are dehydrated (myself included) and when we are on our mats or practicing and sweating, it is so important to drink water to replenish the body. I aim to drink 60oz or more daily at a minimum and always notice brighter skin and better digestion when I am drinking enough water daily."
-Ava Johanna
200 Hr. Vinyasa Yoga, Hot26, 1GiantMind Meditation Teacher, Pranayama
Host of The Alchemized Life Podcast
Los Angeles, CA
"Water is very important for hydration. When you are feeling thirsty or your lips and mouth are dry, you are already dehydrated. The flip side of that, of course, is to not over-hydrate before yoga class—it can be rather, er, uncomfortable to have a full bladder during certain poses!"
-Gretchen Graham Lightfoot
RYT-500, 500-hour Registered Yoga Instructor
Blooming Life Yoga Studio + School, Teacher
Zionsville, Indiana
"The body needs enough water in order to for cellular function, elimination to take place, and for your brain."
-Rian Bodner
Kundalini, Vinyasa
Illumina East, Founder
New York, NY
"If you are active, you should be drinking more water, it is the easiest thing you can do to prioritize self-care and recovery. Make sure you avoid plastic bottles that are not reusable or biodegradable."
-Lucile Hernandez Rodriguez
Yoga Alliance RYT-200, Integrative Nutrition Health Coach
Reiki Level 1 Practitioner
Mindfulness and Holistic Health Coach, Yoga Teacher
"Hydration is key! I drink electrolytes in the morning to ensure that I'm keeping my body optimally hydrated. I also recommend Vitamin B12, which gives me a lot of energy and keeps me from feeling tired and weak."
-Kyle Michaud
200HR Yoga Instructor
Experience Expositions, CEO and Founder
Charlotte, North Carolina
"Proper hydration is an integral part of keeping your body in balance. It is important for proper brain and muscle functions, flushes out toxins, reduces inflammation and promotes general well-being."
-Tiffany Desouza
RYT200, NSCA-CPT, NASM-CPT
Yoga Instructor, Personal Trainer
Enerzy Exchange Yoga, Founder
Boca Raton, FL
Each bottle of Chlorophyll Water is fortified with Vitamin A, Vitamin B12, Vitamin C and Vitamin D.
Chlorophyll Water asked their community of health practitioners and nutritionists which natural ingredients and/or vitamins they recommend. Here's what they had to say:
"Chlorophyll as a supplement or in food helps boost wound healing, improve red blood cell count, increases metabolism, and lowers levels of bad cholesterol."
-Brittany Ferri, MS, OTR/L, CCTP
Simplicity of Health, Founder
Registered Occupational Therapist with the National Board for Certification of Occupational Therapy
NY Licensed Occupational Therapist; Certified Trauma Practitioner
Certified Level 1 Cellular Regeneration and Detoxification Specialist
"It's important to take vitamins and supplements intentionally and with purpose (there is such thing as over-supplementing!). That being said, some common deficiencies are vitamin D, magnesium, B vitamins and iron. Inadequate supply of these over time can contribute to detrimental health outcomes so it's really important to prevent identify if you're at risk and do you present to prevent this from happening."
-Maura Rodgers, RD, BS, Health Coach
Wellness with Maura
San Francisco, California
"B12 is essential because our bodies don't naturally produce it and it helps to make DNA and keeping our blood cells/nerves healthy."
-Alondra Smith
Yogathology, Founder
Dallas, TX
"Chlorophyll is a beneficial source of antioxidants, vitamins and minerals. It has some anti-inflammatory mechanisms such as inhibiting TNF-a."
-Dr. Kelly Bay DC, CNS, CDN
Dr. Bay of Innate Wellness Group
New York, New York
"I enjoy taking whole food vitamins, blue green algae, chlorophyll, on a regular basis because it helps to supplement what our food is lacking. And when I feel run down, I take Vitamin C, Elderberry and zinc to boost my immune system."
-Joan Varini
OM Movement Studio
Sun Warrior Yoga, Founder
Miami, Florida
"Vitamin D for bone health; magnesium for better sleep and mood; a mix of creatine and whey protein for building muscle if you're working out regularly; Omega-3 for heart health; Chlorophyll for an energy boost."
-Laura Finch
200-hour YTT
Yoga Teacher & Lifestyle Coach
YogaKali, Founder
"I recommend vitamin b12 in the morning, especially if you're a vegetarian/vegan. It's an important supplement for energy. Magnesium is great for relaxation, digestion and muscle pain. I recommend taking this in the evening, perhaps with calcium and zinc for proper absorption. I enjoy putting mint chlorophyll in my water three times a day. *Chlorophyll Water* makes getting in all of your nutrients that much easier!"
-Christina Ionno
200-hour Yoga Teacher Training
Level 2 Reiki Practitioner
Intuitive Tarot Reader
Brooklyn, NY
"I'm big into Ayurvedic herbal medicine. Most of us are so buzzy and ungrounded (vata imbalance) I definitely recommend Ashwagandha for almost everyone - especially in winter. Shatavri is great for women! But the number one health tip - don't drink ice water with your meals! "
-Caitlin Randolph
200hr YTT
One Down Dog, Teacher
Los Angeles CA
"Potassium for replenishment to fight off fatigue, muscle weakness and to support your blood pressure and mood stability. Magnesium for blood sugar and regulating muscle and nerve functionality. Triphala for antioxidants and digestion cleaning and toning of the intestines."
-Emilie Perz
Equinox
Los Angeles, CA
"Living in the northeast, I am often deficient in Vitamin D, so that's the supplement I always take! I highly recommend getting levels checked by your doctor before taking any supplement and then supplementing your diet as needed."
-Michelle Pillepich, RD.
Michelle Pillepich Nutrition
Cherry Hill, New Jersey
"Chlorophyll is the pigment created by photosynthesis that gives plants their green color. While eating vegetables that are green in color provides chlorophyll naturally, many people find that taking liquid chlorophyll helps them lead a healthy lifestyle."
-Tori Hamilton, R.N.
Registered Nurse
International Board Certified Lactation Consultant
Mothericity, Founder
Chlorophyll Water was selected by the United Nations as their choice water for International Yoga Day within the General Assembly. Chlorophyll Water asked their yoga community how and why yoga is so important for the times we're living in. Here's what they had to say:
"I think too many of us are stuck in habits of distracting and numbing ourselves. We need yoga to teach us to show up more fully and be conscious of what we're contributing to the world with every choice we make."
-Stephanie Weikert
Certified Yoga Therapist
Baltimore, MD
"To be practitioner of yoga (in my humble opinion) means that you practice compassion and kindness regardless of your asana level. It is when yoga is taken out of the studio and into the world that the greatest shift in consciousness occurs because we have the opportunity to realize and see through first-hand experience for ourselves that we are, in fact, all one."
-Jordan Ashley
Souljoun Yoga, Founder
New York, NY
"Yoga is so much more than just the physical poses. There are 8 limbs of Yoga, and Asana is just one. The philosophy behind Yoga teaches us that we can literally change the world if we understand how it works. It's so much about ourselves and how everything is a reflection of us. And if that's true, then why wouldn't we love our reflections."
-Stephen McManus
Three Jewels, Teacher
New York City, NY
"Yoga is absolutely indispensable for the growth and healing of our society. It starts with us as individuals, though. We have to take responsibility for what we put out into the world and how we stand up for what we believe in. And that starts with knowing ourselves deeply. Yoga gives us the tools to sit with the things that happened to us, to look at our biases and to work through them, instead of running away from them.
-Nathania Stambouli
SoulTribe Adventures, Co-Founder
SoulPlay Yoga, Founder
Culver City, CA
"Yoga is important now more than ever today with how overstimulated and hectic everyone's lives are. I think yoga is the best way to get daily movement + a meditation in at the same time so we can finally rest the mind."
-Jacquie Smith
Barre Certification through Exhale
200 Hour Yoga Teacher Training through Poe Yoga
Little Adapts by Jax, Founder
New York, NY
Chlorophyll Water is bottled in Landfill Biodegradable, 100% Recyclable, BPA-Free and Non-Toxic bottles. Chlorophyll Water can be purchased online through their website at ChlorophyllWater.com or on Amazon.
Chlorophyll Water
namaste@ChlorophyllWater.com
1-833-245-7495