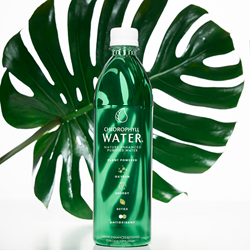 "We are on standby to send Chlorophyll Water to any additional Assisted Living, Senior Centers or Homeless Shelters in the New York City area in need of bottled water."
NEW YORK (PRWEB) March 30, 2020
The world is grappling with an issue that has impacted all humans to an enormous global scale. The hearts and prayers of the Chlorophyll Water team go out to all who have been affected by the outbreak of the Coronavirus (COVID-19).
Recognized by the Green Business Bureau as "Good for the Mind, the Body, and the Planet," the Chlorophyll Water team is prioritizing a few key things: The first is the health and well-being of the community. The Chlorophyll Water team hopes that the community remain safe and healthy during these difficult times. The second is how Chlorophyll Water can best hydrate and serve the community - by providing Chlorophyll + purified water + essential Vitamins A, B12, C and D. 
With that being said, to encourage each and every American to quarantine and practice social distancing, self-isolation – Chlorophyll Water can be delivered to customers, encouraging #QuarantineAndHydrate.
Chlorophyll Water will be offering 15% OFF and FREE SHIPPING across the entire United States for the next three weeks. The code: STRONGERTOGETHER can be used on the ChlorophyllWater.com website in order to prioritize these orders. Chlorophyll Water would like to recognize their Fulfillment Center, along with all of the courageous delivery service men and women for making this possible!
Free Chlorophyll Water for Senior Citizens:
In Los Angeles, Chlorophyll Water has partnered with Erewhon Markets to provide free Chlorophyll Water for Senior Citizens during their 'Senior Citizen Community Hours' from 6:00am to 7:00am. Senior Citizens and immune compromised will receive one bottle of Chlorophyll Water for free, donated by Chlorophyll Water at all Erewhon Market locations (Calabasas, Los Angeles, Pacific Palisades, Santa Monica, Venice) for the next 2 weeks.
Statement from Erewhon Market:
"Erewhon is a passionate community grocery store - we care about the health and wellbeing of customers. When we learned that anyone 65+ or those with compromised immune systems were putting themselves at risk shopping during the virus' initial spread we gathered quickly and decided to open one hour early to make this newly disinfected, much more chill to shop experience for our beloved customers. When Chlorophyll Water reached out to offer to donate their nutritious water to our customers, we were so touched. We are excited to be able to share this at such a hectic time for so many people. Anytime we can partner to give a little love to our customers and communities, we are thrilled to do it."
The Chlorophyll Water team believes that in order to get through this extremely demanding time (and all will get through this!), the community needs the effort and commitment of each and every one, united in kindness, love and generosity. Any brands that want to join Chlorophyll Water in these efforts for beloved Senior Citizens, please email PlantKindness@ChlorophyllWater.com
Join Chlorophyll Water in Donating to Homeless Shelters & Senior Centers in New York City:
In New York City, Chlorophyll Water has teamed up with friends at Whole Foods and their longtime community partners, the Bowery Mission (serving New York City's homeless population), Hillside Food Outreach (providing healthy home food delivery to quarantined, isolated Senior Citizens), and Holy Apostles Soup Kitchen (New York City's largest soup kitchen) in providing Chlorophyll Water for their urgent bottled water requests. To join in these efforts in supplying much needed food and hydration for these causes, please email PlantKindness@ChlorophyllWater.com.
Furthermore, in New York City, Chlorophyll Water will send bottles to any additional Assisted Living, Senior Centers or Homeless Shelters in the New York City area in need of bottled Chlorophyll Water.
From supplying Chlorophyll Water to Trinity Services and Food for the Homeless to providing Chlorophyll Water to ACE New York Programs for the Homeless and various other causes across the State of New York, Chlorophyll Water is committed and will always be there to support those in need of hydration.
Chlorophyll Water would like to thank Mitchell Logistics for their courageous service in fulfilling these deliveries of donations during these times.
Chlorophyll Water for our Doctors & Healthcare Workers in New York City:
Also in New York City, Chlorophyll Water has partnered with Founders Market, donating cases of water to the countless hospitals, drive-in test centers and other facilities across New York City.
The team is grateful and thankful for everyday heroes, Doctors, Medical Professionals & Healthcare Workers for their courage and selflessness and to the Founders Market for their #FoundersGive initiative, asking the Food and Beverage community to step up and support the Doctors and Healthcare workers on the frontlines of the COVID-19 pandemic. 
The Food and Beverage community is encouraged to join Chlorophyll Water in donating snacks or drinks to keep modern-day superheroes fed and hydrated while they work tirelessly around the clock to protect and provide lifesaving support. 
Brands wanting to join in these efforts for Healthcare Workers can email PlantKindness@ChlorophyllWater.com.
Chlorophyll Water Donation Platform:
The Chlorophyll Water team has also built out a Donation Platform on the ChlorophyllWater.com website where they will donate cases of Chlorophyll Water for free to charitable causes including City Harvest, Food Bank of Eastern Michigan, and City Meals.
To donate a case of Chlorophyll Water to the aforementioned causes, please visit ChlorophyllWater.com. To get involved with the respective charities directly, please visit the charities' websites on how you can give back.
Chlorophyll Water Social Media Giveaways with Studio Partners:
Chlorophyll Water has become the go-to hydration for health and wellness experts, nutritionists and fitness trainers across the country. With retail partner: gyms, meditation centers and yoga studios such as Alo Yoga, Aqua Studios, Inscape Meditation, Dogpound, SLT, Xtend Barre and Barre3 closing due to COVID-19, Chlorophyll Water has partnered with studio retailers to give away cases of Chlorophyll Water on social media to boost morale, provide hydration and vitamins for client's at-home quarantined workouts. 
Encouraging the community to stay healthy, work-out at home, quarantine and give out 'virtual hugs' to friends through social media giveaways, such examples are with Sequence Studios in New York and Shape House in Los Angeles. In difficult times, it is important to keep retail partners loyal customers and members engaged and hydrated.
Chlorophyll Water's Mission:
One of Chlorophyll Water's missions is to hydrate the bodies of the children, women, and men who don't have access to one of life's most basic necessities, Water. After an adversity-such as COVID-19, when people may lose that access, there is a role to play and no time to waste. Chlorophyll Water believes access to drinking water is a fundamental human right. Water, the life-giving source that feeds bodies, and hydrates minds can mean life or death for a person or family in need. That is why Chlorophyll Water is committed to providing water to those in need and to those communities in times of extreme events and emergencies, such as COVID-19.
Chlorophyll Water's Goal:
The goal in sending out this Press Release is to encourage brands, both big and small to donate what they can and where they can. The community members share the responsibility of looking out for one another. That's never more relevant and true than in times like right now. The community is in this together, join in giving back. In times of adversity, the collective consciousness is being shifted to focus on the simplicity of generosity, health, love, unity and human connection. The community will get through this together, stronger, unified and united!
With Love,
Chlorophyll Water® Team
http://www.ChlorophyllWater.com
Namaste@ChlorophyllWater.com
@ChlorophyllWater
1-833-CHL-PHYL
About Chlorophyll Water®: Chlorophyll Water is a plant powered purified water (carbon filtered, triple filtration, UV treated) enhanced by nature with the addition of Chlorophyll, a key ingredient and the vital green pigment in plant life. Chlorophyll Water is a refreshing introduction to the many benefits of Chlorophyll fortified with the added health benefits of Vitamin A, Vitamin B12, Vitamin C and Vitamin D for enhanced hydration.
For more information, please visit the website at ChlorophyllWater.com, follow Chlorophyll Water on Instagram at @ChlorophyllWater, and stay up to date with news on Facebook.com/ChlorophyllWater.
Chlorophyll Water is available on ChlorophyllWater.com and on Amazon.
What the Experts Are Saying About Chlorophyll Water:
"There are so many AMAZING benefits] to drinking Chlorophyll Water! It helps your liver function which improves detoxification, fights carcinogens, increases energy, helps to balance hormones, aids in weight loss and also fights cravings, reduces inflammation, increases and refreshes your body's red blood cells, natural internal deodorizer, and promotes anti-aging and glowing skin."

"Chlorophyll Water has become my go-to during and post-workout drink. The spearmint taste is refreshing after a hard sweat, the micro-nutrients are exactly what I need to replenish the loss of electrolytes and the B-vitamins give me a little kick to keep pushing through. As an environmentalist and outdoor enthusiast, it's also refreshing to know that CW is leading the way in sustainability and making a difference for Mother Nature."

David Mykel, MA Cliff Hanger Academy, Founder & Head Coach
"I've always loved chlorophyll for its supportive properties and its ability to help counteract the very toxic world we live in, helping me to stay alkaline. Right now I'm loving Chlorophyll Water because it's a convenient way for me to grab and go, and I love that it has the added health benefits of purified water and vitamins."

Holly Perkins, BS, CSCS, Women's Strength Nation, Founder
"Some of the most exciting health benefits of chlorophyll and greens in general, are its antioxidant activity and promotion of efficient detoxification. Research supports that dietary forms of chlorophyll contribute to overall health and wellbeing by supporting these important functions. Chlorophyll Water can be a convenient way to incorporate more chlorophyll into your daily diet."

Amanda Sylvie, MPH, RD, LD, CLT
"If you're seeking liquid chlorophyll, however, look no further than classic Chlorophyll Water. The purified water features a gorgeous green color and a vitamin-rich composition that helps to energize, oxygenize and detoxify the body from the inside out.

Kirsten Nunez, B.S., M.S.
"Chlorophyll is the bedrock of all plant life, and the similarities to the molecules of our red blood cells is uncanny. When you drink really well sourced Chlorophyll it's like breathing fresh air straight into our bloodstream. I recommend hydrating before your yoga practice with Chlorophyll Water to help stimulate peristalsis and help neutralize free-radicals in the body that can damage healthy cells."

"Yoga Dan" Gottlieb, C.R.C, YACEP
"Chlorophyll Water is also high in antioxidants and vitamins that are necessary for the body. It's chlorophyll that gives green plants their phytochemical and antioxidant properties that can fight free radicals. Having a high intake of antioxidants is important for everyone but especially athletes because the high amount of exercise increases the amount of free radicals produced by the cells which makes it more difficult for the athlete's cells to recover."

Todd Buckingham, Ph.D. Exercise Physiologist
"There are many potential benefits of incorporating Chlorophyll Water into your diet. These perks include speeding up the healing process, detoxifying the liver and inducing weight loss. Since chlorophyll is naturally part of most veggies, as it is a molecule found in all green plants, you're likely getting adequate amounts of this molecule from your diet. However, as drinking Chlorophyll Water will increase your fluid intake, and it has a plethora of potential benefits, it's favorable to include it in your routine in moderation."

"Chlorophyll products, including water and supplements, are being used to boost immunity along with other health benefits. This compound is packed with toxin fighting antioxidants which boost the immune system, decrease inflammation and detox and cleanse the gut. It is said that the immune system is located in the gut, this simply means when our gut flora is healthy and balanced our immune system is able to work at an efficient level."

Lisa Richards, Nutritionist, The Candida Diet
https://www.chlorophyllwater.com
Namaste@ChlorophyllWater.com
@ChlorophyllWater
1-833-245-7495