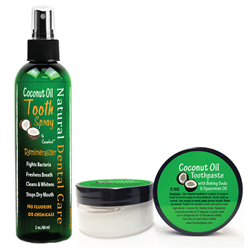 Chocolate extract and coconut oil are proven to promote natural dental health.
Schenectady, NY (PRWEB) July 18, 2015
When Greensations launched the world's first coconut oil toothpaste earlier this year, their Cocodent brand took off like a rocket. That success sparked the company to expand their natural dental care line with a remineralizing chocolate tooth spray that also contains their famous organic coconut oil.
While everyone loves chocolate for its taste and health benefits, most people don't think of this delicacy as a fluoride alternative. Cacao is the purest form of chocolate and far more concentrated than heavily processed cocoa powder. Theobromine, the active compound in cacao is clinically proven to strengthen enamel and protect teeth better than fluoride without harsh chemical effects. In a study by the Department of Pediatric Dentistry at Marmara University in Turkey, teeth treated with theobromine showed remarkable properties for rebuilding and protecting enamel.
Cocodent Tooth Spray also features organic coconut oil just like their popular toothpaste. Coconut oil whitens teeth and is clinically proven to inhibit tooth decay. In 2012, researchers at Ireland's Athlone Institute of Technology tested coconut oil against mouth bacteria and discovered it inhibits the growth of Streptococcus Mutans, a major cause of tooth decay.
"Consumers are searching for fluoride alternatives like never before and they're finding coconut oil and chocolate. Even so-called natural toothpastes have chemicals that shouldn't be in your mouth. Coconut oil and cacao extract can whiten, clean and fortify teeth better than fluoride products without the chemical hazards", says Wayne Perry, Greensations CEO.
While Cocodent toothpaste is designed to use twice daily like any other toothpaste, Cocodent tooth spray can be used throughout the day to revive and protect teeth and gums. Cocodent chocolate tooth spray is a new natural way to clean teeth and promote a healthy mouth on the go.
About Greensations: With more than a dozen brands and thirty products, Greensations has a reputation for creating innovative natural health and beauty products. Their brands are sold in thousands of stores throughout North America. Greensations products have been featured by Dr. Oz, NY Times, Good Housekeeping, First for Women and more.