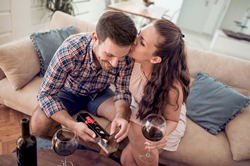 In every category of subscription plans, Amazing Clubs almost always wins first place - and their Chocolate Club continues to be our favorite
OVERLAND PARK, Kan. (PRWEB) December 11, 2020
TopConsumerReviews.com once again gave its best-in-class 5-star rating to Amazing Clubs, an award-winning provider of online Chocolate Club subscriptions.
Milk, dark, bittersweet or white: chocolate is delectable in all of its varieties. Even the Aztecs considered cacao seeds - what chocolate is made from - as a gift from the god of wisdom. And, in America, people really love this sweet treat: to the tune of 11 pounds per person in an average year! For foodies and everyday chocolate fans alike, trying new flavors and combinations is a delight, but it's not always easy to find something novel at the supermarket or even at local candy shops. Chocolate Clubs offer a convenient, affordable and delicious way to sample carefully-curated bars, truffles and bite-size pieces from around the world. These subscription plans range from monthly to quarterly deliveries, with up to twelve shipments per year, making them an excellent option for gift-giving - or for one's own enjoyment.
"In every category of subscription plans, Amazing Clubs almost always wins first place - and their Chocolate Club continues to be our favorite," affirmed Brian Dolezal of TopConsumerReviews.com, LLC. "You won't find another club with as much flexibility with respect to payment options and delivery schedules, or that backs every shipment with an ironclad satisfaction guarantee. And, of course, their chocolate selections will leave you eager for each month's arrival, with a full pound of assorted treats in flavors like Apricot Cashew Bites and Dark Chocolate Toffee Squares. We appreciate that Amazing Clubs always lets recipients know in advance what will be included in each delivery, so that if there's a type of chocolate they don't like or might need to avoid due to allergies, they can easily skip it. Plus, they include a fun newsletter, The Sweetest Tooth, that contains information about the chocolatiers behind each treat, interesting facts about chocolate, and much more. Who wouldn't love to get this chocolate club as a gift that keeps on giving? Once again, Amazing Clubs easily wins our highest rating as our top pick among Chocolate Clubs in 2020."
To find out more about Amazing Clubs and other Chocolate Club memberships, including reviews and comparison rankings, please visit the Chocolate Clubs category of TopConsumerReviews.com at https://www.topconsumerreviews.com/best-chocolate-clubs/.
About Amazing Clubs
Amazing Clubs was founded in 2003 and began with the mission of bringing its members the most exclusive and highest-quality gourmet items available anywhere. Initially beginning with a single club, Amazing Clubs rapidly expanded to include more than three dozen clubs ranging from bacon to wine. Amazing Clubs currently has offices in three states and two countries, and is proud to have served more than two million happy customers. Amazing Clubs is a division of ICG America, Inc.
About TopConsumerReviews.com
TopConsumerReviews.com, LLC is a leading provider of reviews and rankings for thousands of consumer products and services. From Chocolate Clubs to Perfume Stores and Gift Baskets, TopConsumerReviews.com delivers in-depth product evaluations in order to make purchasing decisions easier.