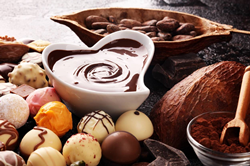 Year after year, zChocolate impresses us with an incredible selection of chocolates, but 2020 really put this specialty chocolatier ahead of the competition
Overland Park, KS (PRWEB) December 12, 2020
TopConsumerReviews.com once again recognized zChocolat as the preferred site for buying Chocolate, continuing the company's best-in-class track record among online retailers.
Is there anyone who doesn't love chocolate? From special moments to everyday enjoyment, this treat is a hands-down favorite of young and old alike. And, giving chocolate as a gift is a surefire way to impress and delight at home or at the office. Whether buying well-known brands like Hershey and Godiva, or venturing into the unknown with small-batch artisans who craft each piece by hand, finding the right chocolate can be an adventure. Fortunately, shopping online puts the world's best selection of chocolates within just a few clicks of the mouse. Truffles, bars, assortments and more can be gift-wrapped, shipped in coolers to prevent melting, and arrive perfectly-packaged on the doorstep for any occasion.
"Year after year, zChocolate impresses us with an incredible selection of chocolates, but 2020 really put this specialty chocolatier ahead of the competition," declared Brian Dolezal of TopConsumerReviews.com, LLC. "As a token of generosity during this difficult year, the CEO of zChocolat doubled every box of chocolate at no extra cost — giving customers the choice to either receive the extra sweets with their order, donate them to a hospital or charity, or save the complimentary chocolates to redeem at a later date. What a wonderful gesture! And, as always, the chocolates made by zChocolat are incomparable: 26 different flavors, all crafted with zero preservatives or alcohol and with 100% pure cocoa butter, following the most rigorous French standards for gourmet chocolate. We can't say enough positive things about zChocolate, and it's our genuine pleasure to give this chocolatier another five-star rating in 2020."
To find out more about zChocolat and other sellers of Chocolate, including reviews and comparison rankings, please visit the Chocolate category of TopConsumerReviews.com at https://www.topconsumerreviews.com/best-chocolate-stores/.
About zChocolat
zChocolat, the premier online retailer of luxury chocolate gifts and world renowned ambassador of the French chocolate savoir-faire, invented a single-shaped chocolate with 26 different recipes, each made in France by Pascal Caffet, World Champion Chocolatier. zChocolat has been in business since 1999 and has offices in Aix-en-Provence, France and Ojai, California.
About TopConsumerReviews.com
TopConsumerReviews.com, LLC is a leading provider of reviews and rankings for thousands of consumer products and services. From Chocolate Stores to Chocolate Clubs and Gift Baskets, TopConsumerReviews.com delivers in-depth product evaluations in order to make purchasing decisions easier.