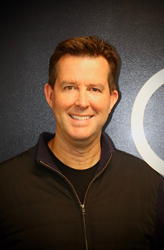 My excitement to lead ChocXO, a brand that evokes the same positive feelings, and help chocolate lovers around the world realize they can have better-for-you chocolate with low sugar and an amazing taste is a dream come true
DELTA, British Columbia (PRWEB) January 11, 2022
ChocXO, the chocolate brand made with simple ingredients, high in cacao, and low in sugar, and Chewters Chocolates, a leading supplier of turndown chocolates, branded chocolate gifts, amenities and in-suite boutique items, has strengthened its leadership team with the appointment of Peter Higgins as President, effective today. In this role, Higgins will be responsible for continuing to build people-first teams, bolstering ChocXO's direct-to-consumer business, and growing distribution with the right partners to develop deep customer connections.
"My passion for chocolate dates back to my childhood where I have fond memories of making chocolate fudge with my father. To this day I can recall the pure chocolate magic that comes from those emotions, family connections, and memories that chocolate brings up. My excitement to lead ChocXO, a brand that evokes the same positive feelings, and help chocolate lovers around the world realize they can have better-for-you chocolate with low sugar and an amazing taste is a dream come true," says Peter Higgins, President at ChocXO and Chewters Chocolates.
Prior to joining ChocXO, Higgins cultivated vast chocolate experience and expertise from his role as President and Chocolate Scientist with Purdys Chocolatier, where he worked for two decades. Additionally, Higgins has been a member of the World Cocoa Foundation, on the Board of the BC Food Processors, the Vancouver Board of Trade and served on the Retail Council of Canada including years of leading as Chair. Higgins has traveled around the world, studying chocolate in dozens of countries, which has fueled his passion for the industry. He launched sustainable cocoa programs working with Cocoa farmers in countries such as Ghana and Cote D'Ivoire where he developed a thorough understanding of the agriculture, farming, and processing of cocoa. Higgins has shared this knowledge by leading and teaching education on the Science of Chocolate through mainstream media and social media.
"I've known and admired Peter for his success in the chocolate and business world myself for quite some time, and to be able to now work together with him is an honor and a privilege," said Richard Foley Founder and CEO at ChocXO and Chewters Chocolates. "Peter has a strong passion for chocolate and a wealth of experience in product research and development, establishing a sustainable cocoa program, chocolate manufacturing operations and he has a deep knowledge and passion for selling, brand building, and marketing of chocolate. Most importantly, he is a strong leader with an outstanding managerial acumen, which makes him the perfect fit for the next chapter of the company."
ChocXO is passionate about chocolate, real chocolate, and the way it was meant to be by offering a healthier, natural, organic product that is both simple and artisanal in nature. Made from high cacao dark chocolate and engineered by chocolatiers, not food scientists, the brand currently has four core product lines: Dark Chocolate Almond Butter Cups, Dark Chocolate Coconut, Almond Sea Salt Snaps, Dark Chocolate Raspberry Quinoa Snaps, and Dark Chocolate Covered Almonds.
For more information about ChocXO please visit http://www.chocxo.com or check out @Chocxochocolatier on Instagram, and @ChocxoChocolatiers on Facebook.
###
About ChocXO
ChocXO, which was founded in 2014 as a bean-to-bar chocolate company in Irvine, Ca recently scaled production by adding capacity in its Canadian chocolate molding plant. ChocXO's seasoned chocolatiers span multiple generations, and they use only fine flavor cocoa beans that are naturally nutty, fruity, and less bitter than traditional "bulk" cocoa beans. Less bitterness means less need for additional sugar. Only a small amount of organic sugar is needed to underscore their chocolate's already delightful taste, without any substitute sweeteners or "natural flavor enhancers". Great chocolate should never come with guilt, and healthier chocolate should never come with ingredients you cannot pronounce.