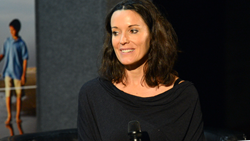 Ky shared her story of overcoming a back injury that was severe enough that doctors told her that she would have limited mobility for the rest of her life. 'That didn't sound like the kind of life that I wanted to live,'
Hollywood, California (PRWEB) May 13, 2015
On April 8th, 2015, Choices Recovery sponsored Durkin Entertainment's "RockNRolla Movie Awards" EcoLuxe Lounge at the famous Avalon Hollywood music venue. Organized by Debbie Durkin, Los Angeles' leading producer of sustainable product placement in TV and film, the EcoLuxe Lounge is a premier red carpet event that makes appearances at various awards ceremonies and festivals throughout the year, including the Emmy Awards, the Oscars and Sundance. A gathering of some of the world's top providers of socially conscious and eco-friendly products and services, the EcoLuxe Lounge saw many of Hollywood's entertainment industry professionals in attendance.
""It was a pleasure to be able to work with Debbie Durkin again, and alongside of so many people and companies who care so much about what we put into our bodies and how we treat our planet," said Choices Recovery founder Per Wickstrom. "We would like to thank her for the opportunity to help raise awareness about the problem of dependency that our society faces today, and for the chance to inform people about the service that we offer, which is giving our patients the ability to make Choices in their recovery from addiction."
Several of the guests at the EcoLuxe Lounge took some time to sit with TV and film star Chase Masterson, who was hosting the Choices Recovery Mishawaka Celebrity Interview Lounge. Among them was Ky Furneaux, an Australian born actress and stunt performer who is known for her work on The Avengers, Thor and X-Men: Last Stand, and was named 2012's Best Female Stunt Performer at the Taurus Stunt Awards (the Oscars of the stunt industry). She shared her story of overcoming a back injury that was severe enough that doctors told her that she would have limited mobility for the rest of her life. "That didn't sound like the kind of life that I wanted to live," Ky told Chase. "I was very active, very outdoorsy. When they told me that, I decided to prove everybody wrong. It was a choice. I often wonder what my life would have been if I had listened to those who put those limitations on me."
Other notable attendees at the EcoLuxe Lounge included: Scheana Marie Shay, Tom Sandoval, Ariana Madix, Kristen Doute, James Kennedy, Tom Schwartz and Peter Madrigal (Vanderpump Rules); Jessica Hall (Kendra On Top); Octavius Johnson (Ray Donovan); Sabina Gadecki (Entourage The Movie); Scott Bailey (The Bay); Dexter Darden (The Maze Runner); Lexi Ainsworth (Emmy Nominee General Hospital); Ken Davitian (Borat); Monty Greer (MTV's Awkward); Barbara Alyn Woods (One Tree Hill) with daughters Natalie Alyn Lind (The Goldbergs), Alyvia Alyn Lind (The Young & The Restless) and Emily Alyn Lind (Revenge).
To see the full video visit: https://www.youtube.com/watch?v=yptxPsUWCaI