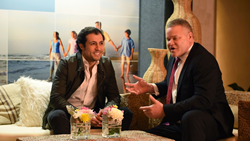 'It (drug abuse) is definitely rampant,' Rodrigo shares, 'and you know, whatever circles you end up in, you (can be) smart enough to avoid it, but it's never not going to be around, whether it's Albany or Rochester or Toledo.'
Hollywood, California (PRWEB) April 15, 2015
February 21st, 2015 saw a special event unfolding in the Stardust Penthouse on the rooftop of the lavishly appointed Beverly Hilton Hotel. Choices Recovery, a holistic treatment center for substance abuse rehabilitation, sponsored the EcoLuxe Lounge and the "Salute to the Oscars" celebration, honoring the 2015 Oscar Award nominees.
A gathering of some of the world's top providers of ecologically sound and socially conscious products and services, the EcoLuxe Lounge and the "Salute to the Oscars" were organized by Debbie Durkin of Durkin Entertainment, Los Angeles' leading producer of sustainable product placement in TV and film.
"Working alongside of Debbie Durkin to put together this fantastic event was an honor and a privilege," commented Choices Recovery founder Per Wickstrom. "Not only was it great fun, but we were grateful to have the opportunity to raise awareness about addiction in Hollywood and all around our country, and to spread the message of what Choices Recovery is all about: providing healthier holistic options in the treatment of substance abuse and addiction."
Rodrigo Rojas' View On The Widespread Abuse Of Drugs:
Many notable contributors to the entertainment industry dropped into the EcoLuxe Lounge to learn more about the natural, wholesome and eco-friendly goods and services that were featured, and to enjoy the rustic American décor overlooking the impressive LA skyline.
One of those attendees that took a few moments to speak with Per on the stage set by Choices Recovery and Durkin Entertainment was TV and voice actor Rodrigo Rojas.
He talked a bit about the problem of substance abuse that he has seen all across the nation. "It's definitely rampant," he shares, "and you know, whatever circles you end up in, you (can be) smart enough to avoid it, but it's never not going to be around, whether it's Albany or Rochester or Toledo."
"Rodrigo hit the nail right on the head," Per said later. "Addiction knows no boundaries. It is blind to gender, race, age and religious background. It is not bound by geography. Regardless of who they are or where they live, addiction can take anyone."
Other notable attendees of the EcoLuxe Lounge included Elise Robertson (Oscar Nominee - American Sniper: Best Picture), Jason Canovas (Oscar Nominee - The Hobbit: Sound Editing), Elizabeth Yianni-Georgiou (Oscar Nominee - Guardians of the Galaxy: Achievement in Makeup and Hairstyling), Ben Wilkins (Oscar Winner - Whiplash: Best Sound Mixing), Kevin Sorbo (Hercules), Claudia Wells (Back To The Future), Jason Davis (Celebrity Rehab), Frank Stallone (Rocky), Chase Masterson (General Hospital, ER), Carolyn Hennesy (True Blood, That 70's Show) and many, many others.
See the full video here: https://www.youtube.com/watch?v=WWDRDQCnFI4