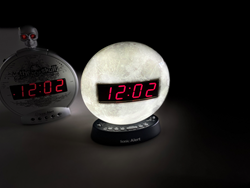 Battery backup, audio inputs and even USB charging (on the Glow clock) make these two choices versatile and fun
TROY, Mich. (PRWEB) October 27, 2020
Start your day off right and get into the spirit of Halloween with either of these unique alarm clocks from Sonic Alert. Several features make them different than any other on the market. The Skull has flashing lights and eyes. The Sonic Glow Moon clock is a replica with a dimmable glow feature that serves as a night light as well as an extra wake, plus a howling moon audio setting.
Both alarm clocks feature up to 113 decibels - the loudest available on the market - with adjustable volume and tone. The Sonic Bomb Super Shaker can be used on either clock for some serious vibration. Users can select how they want to wake, like vibration only with no audio, allowing others to continue sleeping uninterrupted.
Both Skull and the Sonic Glow Moon Clocks are quality made and offer a number of user-selectable features, great audio and a fun way to start your day.
Check out the website for a Halloween Special.