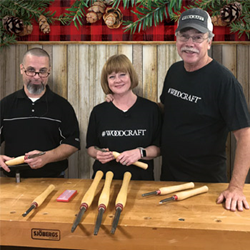 And don't forget the Woodcraft Gift Card is the perfect way to make sure that the woodworkers in your life get exactly what they want.
PARKERSBURG, W.V. (PRWEB) November 14, 2018
Scott and Suzy Phillips, co-hosts of "The American Woodshop" on PBS, are ready to share their 2018 Holiday Gift Guide after shopping at Woodcraft.
They teamed with six Woodcraft product experts to make a video that shows their product choices, along with demonstrations and information to help shoppers make their selections. Most of the Gift Guide items are listed below with a brief explanation, but to get all the details, view the video by clicking here.
Scott also reminds shoppers: "And don't forget the Woodcraft Gift Card is the perfect way to make sure that the woodworkers in your life get exactly what they want."
TOOLS & ACCESSORIES

Razertip P80 & P80X Digital Pyrography Unit & Expansion Module – The new P80 is super easy to use, and its capacity can be doubled or tripled with expansion units.
No sharpening needed for the Woodpeckers Ultra-Shear Turning Tools, thanks to replaceable nano-grain carbide inserts.
The Porter-Cable Restorer Handheld Drum Sander easily removes paint and finish from wood and other surfaces.
JessEm Ultimate Router Table is a turnkey router table system featuring superior components.
BOW Products GuidePRO Bandsaw Guide is a featherboard that is great for thin stock, odd shapes, and tall panels.
Tackle carcass construction, doors and frames, and more with the BORA Portamate 4-Piece Parallel Clamp Set.
BESSEY GearKlamps are ideal for clamping in cramped spaces.
SHOP & SAFETY
Use the KREG Track Horse to make a workspace anywhere.
Continuously purify air in a 680-square-foot area with the Powermatic PM1250 Micro Dust Air Filtration System.
GVS Elipse OV/P100 Respirators (S/M, M/L) feature active carbon filters.
The WoodRiver LED Magnifying Shop Light's adjustable base clamp fits most work desks.
Six drawers in the WoodRiver Sandpaper Organizer keep sandpaper neatly organized.
The NEBO EYE Light magnetically rests inside its base, allowing a 360° rotation to direct light where it is needed.
Designed for ultimate comfort, the Woodcraft Trucker Hat is stylish too.
PROJECTS & FINISHING
Prefinished Bally Block Cherry and Walnut Tops make beautiful countertops and tables.
PlayWood Connectors allow construction of furniture without screws, nails or glue.
Make a cool gift with a Camillus Knife Kit or give a kit as a gift. Kits include the HIDE Fixed Blade Machete, Chunk Fixed Blade Knife, and Mask Fixed Blade Knife.
WoodRiver Mosaic Pins add decoration to knives and aid in attaching knife scales to a blade's tang.
Pequiá Slabs cut from a tree in Brazil that is over 1,000 years old have been surfaced planed and sanded for projects.
Spray more projects easier with the new 450-watt HOMERIGHT Super Finish Max HVLP Paint Sprayer.
RUST-OLEUM Varathane Weathered Wood Accelerator replicates nature's aging process.
Howard Cutting Board Cleaner safely cleans and neutralizes odors on cutting surfaces.
System Three Quick Cure-15 Kit sets in 15 minutes to allow more working time.
For more information about Woodcraft, please contact the store nearest you, visit http://www.woodcraft.com or call (800) 535-4482.