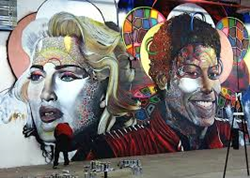 Chor Boogie is an original. His works can be described as having healing effects by his unique and unmatched use of color, which brings greater meaning and understanding to his works.
SAN FRANCISCO (PRWEB) December 05, 2018
Chor Boogie's colorful paintings are attracting A-list celebrities, art galleries and museums. Originally from San Diego, the artist known as Chor Boogie currently resides in San Francisco but is an internationally known artist and has traveled extensively to exhibit his work around the world.
Chor's most recent focus - bringing art to underserved communities. The National Endowment for the Arts has awarded the Sonoma Valley Museum of Art with a grant. The purpose of this project is to support a public art and artist residency project led by guest artist Chor Boogie. Boogie will engage with area youth in a multi-week artist residency that will incorporate workshops, artist-led talks, performances, and other education opportunities and will culminate in a large street mural in the Boyes Hot Springs area of Sonoma Valley California. As part of a culminating event, the students will be paired with an adult mentor and give a presentation about their creative learning process. For more information on projects included in the NEA grant announcement, visit arts.gov/news.
Chor is also one of the international artists that will be featured at the 2019 premier exhibit of the new Street Art Today Museum in Amsterdam. Once open, this will be the largest street art museum in the world to date.
About Chor Boogie:
Chor Boogie, aka Joaquin Lamar Hailey, is a critically acclaimed spray paint artist. He was recently honored by Société Perrier as being number three among the Top Ten U.S. Street Artists. His visionary murals and art exhibitions have appeared all over the globe including venues such as the Beijing 2008 Olympic Games, the Smithsonian, Museum of Public Arts in Baton Rouge, Museum of Art Puerto Rico, LA Art Fair, Torrance Art Museum in Los Angeles, Museum of Contemporary Art in San Diego, Museum of Man in San Diego, San Diego Museum of Art, Children's Museum in San Diego, Syracuse University Museum, and the Vision Arts Festival in Crans-Montana, Switzerland. Miami New Times named his mural on Macaya Gallery as the Best Miami Mural for 2016.
Chor Boogie is recognized for having achieved a groundbreaking level of technical and emotional virtuosity in the medium of spray paint. He approaches his use of color as a form of therapy and visual medicine. Chor is primarily a self taught artist, though he was first nurtured by the world of street art. Early spray paint mentors include Phase2, Vulcan, and Riff170, who were among the first notable creators in the street art and hip hop cultural movements. He draws aesthetic inspiration from old masters including Michelangelo, Da Vinci, Rembrandt, Klimt, Van Gogh, Dali.