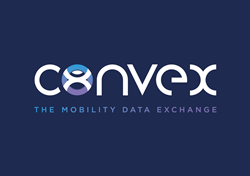 "Organisations from different parts of the mobility eco-system are already collaborating to trial new data-driven initiatives that make transport safer, cleaner and better."
LONDON (PRWEB) November 02, 2020
Chordant (http://www.chordant.io) today announced that it has been selected by a consortium of public and private sector organisations to operate the United Kingdom's new Mobility Data Exchange facility named Convex (http://www.convexglobal.io).
The consortium, including Transport for West Midlands (TfWM), Jaguar Land Rover, Bosch, Warwick Manufacturing Group together with three innovation partners, Immense, Synaptiv and Valerann, have been working together since 2019 to create a national commercial Mobility Data Exchange facility that accelerates the arrival of new data-driven mobility services which stimulate economic growth.
Convex sits at the intersection between Connected and Autonomous Vehicles, Intelligent Transport Infrastructure, Digitised Freight and Logistics and Mobility-based Services. Scheduled for launch in early 2021, Convex will enable public and private enterprises from different sectors to develop, test and operate global mobility solutions together, which rely on dynamic data exchange between organisations and systems.
Chordant was awarded a contract for the supply of its award-winning SymphoniaTM Dynamic Data Exchange software platform to the consortium in April 2020. This announcement confirms Chordant's new role as the owner and operator of the facility.
"Convex represents a step change in the way organisations can access and use data to bring major benefits to their own business, to our national economy and to all of society, sooner. This announcement reinforces the collaborative model of public, private and academic sectors coming together to create multiple outcomes with a single, powerful and straightforward solution. Congratulations to Chordant and the whole consortium for this significant milestone and an exciting global facility," said Mike Waters, Director of Policy, Strategy and Innovation at Transport for West Midlands.
"Organisations from different parts of the mobility eco-system are already collaborating to trial new data-driven initiatives that make transport safer, cleaner and better," said Ash Wheeler, Senior Vice President at Chordant "Convex will enable these and other new mobility solutions based on data sharing to be built and operated at scale."
Convex is part-funded by the Centre for Connected and Autonomous Vehicles (CCAV) and is being delivered in partnership with Innovate UK and Zenzic as part of the government's £100 million Testbed UK Fund, supporting the Future of Mobility Grand Challenge.
As a key part of the UK government's modern Industrial Strategy, the Future of Mobility Grand Challenge was announced in 2017 to encourage and support extraordinary innovation in UK engineering and technology, making the UK a world leader within the transport industries. This includes facilitating profound changes in transport technologies and business models, to make the movement of people, goods and services across the nation greener, safer, easier and more reliable.
Chordant will be speaking about Convex use cases at the Highways UK 2020 event (2nd – 6th November): https://bit.ly/3egO7lf
About Transport for West Midlands
TfWM is the Transport arm of the West Midlands Combined Authority. It is at the forefront of the next transport revolution developing new services, apps and projects to improve mobility, speed up journey times and further develop a joined-up transport network in the region.
About Chordant
Chordant provides dynamic data exchange solutions that enable our customers to build and operate new mobility solutions that rely on shared data. Our services power data-driven applications for Cities & Regions, Connected & Autonomous Mobility and Complex Infrastructure & Facilities. Chordant has been recognized by numerous analyst firms and organizations for its industry-leading solutions. For more information, visit: http://www.chordant.io.
Chordant and its logo are trademarks of Chordant, Inc. All other company or product names, brands, trademarks, and logos are the property of their respective owners. All rights reserved.