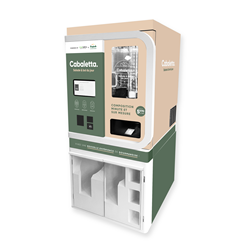 LILLE, France (PRWEB) January 28, 2019
The world's first fresh food robot will make its European debut as part of an exclusive partnership between its creator, Chowbotics, and Bonduelle, the current world leader in ready-to-use vegetables, in all their forms. The two companies joined forces to create the Cabaletta brand for their deployments in mainland Europe. Chowbotics uses "Sally the Robot" branding for deployments in the Americas.
After a team of world-renowned, award-winning chefs rigorously tested and endorsed the robot last November at the Paul Bocuse Institute, Bonduelle committed to bringing these robots to France to deploy at several of its foodservice outlets. Robots will be deployed in offices of several big companies in the Lille area, in a business school and in a self-service family restaurant. These initial deployments will further Bonduelle's vocation to innovate and explore new market opportunities.
"After visiting the Chowbotics office in Silicon Valley a year ago, I knew Sally the Robot could be the perfect solution to several challenges with salad bars including contamination of ingredients and accessibility," says Patrick Lesueur, Group R&D Director, Bonduelle. "We are excited to embark on this journey with Chowbotics, as they have delivered a very promising platform."
Like Sally the Robot, Cabaletta can operate 24/7 and will offer custom salads from any combination of 20 ingredients selected by Bonduelle, in addition to chef-crafted, pre-programmed recipes. Users can also fine-tune the calorie total by adding or subtracting ingredients, as well as view full nutritional details for each recipe. The robot's proprietary technology reduces the risk of foodborne illness, as ingredients are kept sanitary and separate. Each of the ingredients is replenished on a regular basis and contained within the robot, greatly reducing the potential for contamination.
"We are thrilled to partner with Bonduelle, a company whose core values of wellness and innovation mirror our own," says Levi Lalla, Director, Europe Business Unit, Chowbotics. "We are happy to see people in France, a country that sets high standards for food, so warmly embrace salad-making robots."
About Chowbotics: Chowbotics makes fresh food accessible with Sally, the first fresh food robot in the industry. Sally's innovative robotics technology provides customizable salads, bowls, and snacks 24/7 in a 3'X3' space. For more information, please visit Chowbotics.com.
About Bonduelle: Bonduelle, a family business, was established in 1853. Its mission is to be the world reference in "well-living" through plant-based food. Prioritizing innovation and long-term vision, the group is diversifying its operations and geographical presence. Its vegetables, grown over more than 130,000 hectares all over the world, are sold in 100 countries under various brand names and through various distribution channels and technologies. An expert in agro-industry with 54 industrial sites or owned agricultural production sites, Bonduelle produces quality products by selecting the best crop areas close to its customers. For more information, please visit Bonduelle.com.