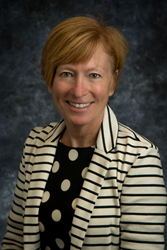 People don't think about special financial needs for women, but I see it again and again. Women live longer, may earn less over the longevity of their careers, and may move in and out of the workforce with small children. I'm excited to offer guidance for these life situations and more."
ST. JOSEPH, Mo. (PRWEB) October 26, 2018
With increasing media attention on the unique financial decisions placed in front of women, Family Investment Center announces the advancement of Chris Danford to an Investment Advisor Representative position. She became an Investment Advisor Representative for the firm in September, after passing the Series 65 Uniform Investment Advisor Law Examination.
"People don't think about special financial needs for women, but I see it again and again," says Danford. "Women live longer, may earn less over the longevity of their careers, and may move in and out of the workforce with small children. Decisions can be complex. I'm excited to offer guidance for these life situations and more."
Danford has served the Family Investment Center firm since 2011 and is also Director of Community Relations. She will continue in this role in addition to advising clients about finance and investing.
"I'm excited to step into an advisor role," says Danford. "As Director of Community Relations, I've watched the team work with clients for years. This is an opportunity for me to help clients directly."
In her current Family Investment Center positions, Danford draws upon diverse career and community roles. She worked 29 years as a teacher, special education teacher and counselor in the St. Joseph and Park Hill School Districts and Bishop LeBlond High School. After retiring from Park Hill School District in 2011, Danford was an adjunct teacher at Northwest Missouri State University. She was elected to the St. Joseph School District Board of Education and served from 2012 to 2017.
"I helped families for years as a school counselor and I've raised three successful daughters. Those coaching skills translate nicely into financial and investment planning," Danford explains. "Some may think our business is about the numbers, but it is not. It is about the people. That's my specialty."
Reflecting her community dedication and volunteerism spirit, Danford has been active in organizations including CASA, InterServ, United Way, The Center and the Buchanan County Extension Council. She was the Missouri High School Counselor of the Year in 2009 and has been recognized as a Distinguished Alumni at Missouri Western State University. She graduated from Missouri Western State University in 1978 and earned an Master of Science in Guidance and Counseling from Northwest Missouri State University in 1990. Family Investment Center, with offices in St. Joseph, Missouri and Lenexa, Kansas, is a commission-free planning and advisory firm founded in 1998. The company serves hundreds of families and other clients and manages some $275 million in discretionary portfolios.
"I'm excited to join the advisory team at Family Investment Center. What a great time to help others achieve their financial and family goals," says Danford.
About Family Investment Center
Reflecting an unconventional approach to investing and financial planning, Family Investment Center invites clients to "plan for some serious freedom." Now in its third decade of service, Dan Danford is Founder/CEO of Family Investment Center, a pioneer among commission-free investment advisory firms. Richard C. Salmen serves as President of Family Investment Center. Salmen also serves as the 2018 Chairman of the CFP Board national board of directors.
With a team of professionals at offices in St. Joseph, Mo., and Lenexa, Kan., Family Investment Center brings a client-focused philosophy to individuals and families in the Kansas City area and across the country.
Media sources who have interviewed or quoted the Family Investment Center team include The Wall Street Journal, The New York Times, CBNC, Barron's, InvestmentNews, BusinessWeek, Forbes, U.S. News & World Report, The Kansas City Star, the Chicago Tribune and others.
Read more at http://www.familyinvestmentcenter.com