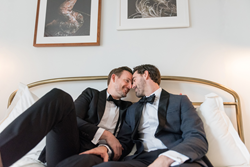 Chris Ferenzi Photography has been chosen as one of the top 25 wedding photographers in Washington DC for 2021.
WASHINGTON (PRWEB) April 15, 2021
Chris Ferenzi Photography is excited to announce that he has been chosen as one of the top 25 wedding photographers in Washington DC for 2021 by WeddingRule.com, an independent weddings editorial that features only the best wedding industry professionals.
WeddingRule.com's 25 Best Wedding Photographers in Washington DC is a handpicked list of top professional photographers who have established themselves in the industry for offering "the best of the best" wedding photography services.
WeddingRule.com's announcement stated, "Have your wedding be the talk of the town with Chris Ferenzi Photography. His team of professionals is talented and skilled to capture on film the moments you might miss, preserving them for a lifetime to come."
Owner and lead photographer Chris Ferenzi has spent more than ten years behind the camera, proudly documenting the happiest moments of people's lives. Aside from the most recent milestone as one of Washington DC's top 25 wedding photographers, Chris Ferenzi Photography this spring was also featured in Martha Stewart Weddings.
In just a few years Ferenzi, a former mechanical engineer, has launched himself into the incredibly competitive Washington DC photography market with his bold, modern, and authentic photography.
"I want to give you the peace of mind that the moments you experience, and the ones you might miss, will be preserved in a bold, modern, and authentic way," Ferenzi said.
Ferenzi's clients note his attention to detail, consistent quality, and ability to capture honest emotions.
"Chris was an absolutely phenomenal photographer for our wedding. He was easy to work with, very responsive, and provided the direction we needed to make sure we had memories of our favorite moments from that day. The photos were beautiful, but the highlights were all of the small things and interactions between friends and family that he caught, moments we would have never seen otherwise. We couldn't have been happier with our choice. Highly recommended!" previous client Joe Martin said.
Chris Ferenzi Photography is based in Washington DC, where Ferenzi and his team photograph weddings, proposals, and engagements.
For more information about Chris Ferenzi Photography, and to view a complete portfolio, please visit http://www.chrisferenzi.com. You can also connect with Ferenzi on Instagram at @chrisdelta