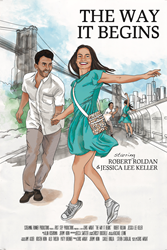 ambitious, creatively bold, super entertaining and heartfelt...
LOS ANGELES (PRWEB) February 04, 2019
Chris Wright's directorial debut, "The Way it Begins", starring Robert Roldan ("So You Think You Can Dance," "La La Land") and Jessica Lee Keller ("Adjustment Bureau," "Now You See Me 2") nabbed the Jury Award at the 2019 LA Dance Film Festival. As the film makes its way around the festival circuit, it continues to delight audiences and critics alike, recently winning Best Dance Film at the 2018 Lady Filmmakers Festival.
The film was named by Shoot Online as "The Best Work You May Never See."
An award winning director, Wright was featured in Shoot Magazine's Fall 2018 collection of Up-And-Coming Directors, alongside other accomplished filmmakers Coralie Fargeat, Eliza McNitt and Caitlin Cronenberg.
"The Way It Begins," an "utterly charming dance film…that will make you fall in love with the idea of falling in love." (Steve Kopian, Unseen Films) is a romantic "La La Land"-esque 10-minute dance film that echoes the golden age of musicals while packing an emotional punch as two strangers crossing paths on a train seize the moment to challenge a potentially missed connection as they flirt and dance through Spring in New York City. The story suggests the idea of love-at-first-sight and makes you wonder what amazing things can happen if you just take a chance.
On breaking into filmmaking, Wright says, "I've always been a storyteller and an entertainer throughout my career. What I love most about this journey into directing is the chance to connect with people in a way that informs, instructs and inspires. The filmmaking process is a collective team goal of creating something that didn't exist before—we get to share in the excitement of bringing a new vision to the world."
Wright's whimsical short film debut held its World Premiere as an Official Selection at the 21st Annual Dances With Films Festival as part of the Downbeat: A Celebration of Music and Dance program and has since been selected for a number of other festivals, garnering consistent praise.
The film has been described as "ambitious, creatively bold, super entertaining and heartfelt..." (Adam Suschitzky, Director of Photography ("11.22.63","Fear the Walking Dead") and as "a vintage rom-com with poetic movement instead of Billy Crystal & Meg Ryan's banter" (Ben Barnes, actor, "Westworld," Marvel's "The Punisher").
Wright says this "mini movie" was inspired by his love of old Hollywood musicals and the holiday classic "White Christmas." He wanted to tell a story about two people finding each other and explore what the range of emotions would look like if expressed only through movement and music—there is only one line of dialogue in the entire film. Wright adds, "This movie is not only a story about two people falling in love, but it's also a love letter to New York."
"The Way It Begins" is presented by First Step Productions in association with Screaming Runner Productions, and was written, directed and produced by Chris Wright. The film was produced by Jeremy Horn, Carlee Briglia and Steven Carbajal. The original score was composed by Alan Koshiyama and Jeremy Horn. The project was choreographed by Becca Sweitzer and filmed by cinematographer Rachael Levine.
For more information, visit: https://www.thewayitbegins.com.
About Chris Wright
An Oklahoma native, Chris Wright is a veteran television Visual Effects Supervisor who has popular series to his credit, including: CBS' Jim Caviezel starrer, "Person of Interest"; Showtime's "The Affair" and "Californication"; ABC's "Madoff" starring Richard Dreyfuss; Marvel's "The Punisher" and "Luke Cage" (Netflix); as well as the multi-award-winning series "Mad Men" (AMC) and "Fringe"(Fox) which earned him a VES Award nomination. Wright has a variety of other upcoming projects in various stages of development, including a drama about the effects of a broken home on a child, a comedy pilot set in an office and a holiday themed animated feature.
"The Way It Begins" Links:
Website
IMDB
Facebook
Instagram
Twitter
YouTube