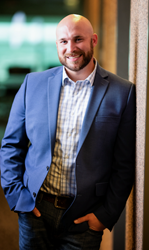 FORT WORTH, Texas (PRWEB) April 28, 2021
First American Payment Systems, one of the nation's leading payment technology companies, today announced the appointment of Chris Yurko as Vice President of Integrated Payments. In this newly created role, Yurko will be responsible for growing strategic accounts and partner relationships throughout North America. He also will oversee both the strategy and vertical focus for the sales channel.
Yurko, who joined First American in 2018, brings a broad range of experience to his new position, including sales, strategic partnerships, and business development. Previously, Yurko served as Director of Strategic Partnerships at Worldpay, where he expanded the company's partner portfolio to include field services. His expertise also includes payment integrations at Apriva and sales at Chase Paymentech, where he established new distribution channels and increased sales revenue in merchant services.
"Chris has been instrumental in ramping up First American's ISV presence over the past three years and he has a proven history building sales teams and delivering exceptional results," said Rick Rizenbergs, Executive Vice President of Sales. "His drive, frankness and follow through represent the best that is First American and will no doubt contribute to the channel's future growth."
Yurko holds a bachelor's degree in Business, Management, Marketing and Related Support Services from Brigham Young University.
About First American Payment Systems – Technology Driven Payments
First American Payment Systems, L.P., headquartered in Fort Worth, Texas, is a global payment technology company providing leading integrated payment solutions to more than 159,000 merchants throughout the Americas and Europe. First American provides partner and merchant payment solutions that include a robust set of in-store, online and mobile payment solutions paired with the latest in payment security, across a wide range of verticals. Backed by award-winning customer service, merchants and partners have access to our U.S. based Customer Call Center 24/7/365. For more information, visit http://www.first-american.net.