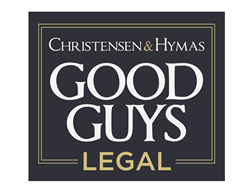 Over the years, the attorneys at Christensen & Hymas have been called the good guys in personal injury law because of the success they've had handling injury cases and the exceptional service they provide their clients
SALT LAKE CITY (PRWEB) January 25, 2021
The personal injury lawyers at Christensen & Hymas Law Firm are pleased to announce the launch of the law firm's new brand "Good Guys Legal". This new brand helps accident victims identify the law firm as plaintiff's attorneys representing accident victims and not insurance companies.
Over the years, the attorneys at Christensen & Hymas have been called the good guys in personal injury law because of the success they've had handling injury cases and the exceptional service they provide their clients - so they added it to the name of their law firm.
The law firm was founded by Ken Christensen in 2006. Since that time the law firm has only specialized in accident and injury claims – helping people who have been injured and making sure insurance companies treat them with respect and fairness.
Good Guys Legal mission and purpose is to give a voice to those injured by others. Reflecting on the mission, Ken Christensen states, "we strive to give the people of Utah valuable information and resources so they can make an informed decision about pursing an injury claim and hiring the right lawyer."
Ken Christensen and Russ Hymas wrote the book on accident and injury claims. They are the authors of the Utah Accident Book – 7 Biggest Mistakes That Can Wreck Your Accident Case and How to Avoid Them. This book is free to Utah accident victims. The book walks you through the insurance claims process and helps you understands your rights after an accident.
At most big personal injury law firms, you are shuffled from person to person, never dealing with an attorney - Not at Good Guys Legal. Their attorneys meet with you and personally handle your case. From the moment they start working on your case, you'll never have to take another phone call from an insurance company or deal with having to answer questions from an insurance adjuster. And when you become their client, you become part of their law firm family. Russ Hymas says "this gives us a lot of satisfaction having those long term relationships with our clients."
Injured in an Accident – Call the Good Guys!
Ken Christensen and Russ Hymas, along with the rest of the attorneys and staff at Good Guys Legal have dedicated their careers to helping those who have been injured by others. They are different than other law firms because they limit their case loads to ensure their clients receive the personal attention they need and deserve after an accident. They're just good guys!